Date: April 2018
Location: North Wales Hospital site, Wales, UK
Name: The Denbigh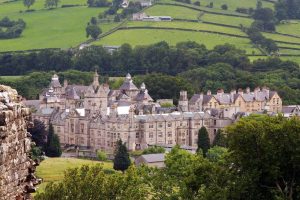 No. of Keys:
Seller: Freemont (Denbigh) Ltd, originally put it up for auction in 2016 with a £2.2m reserve price. In July 2013 the local council placed a compulsory purchase order on the dilapidated site. Acebench/Freemont paid £310,000 for the hospital in 2003.
Buyer: Signature Living, headed up by Lawrence Kenwright.
The Grade-II-listed former asylum in Denbigh, the first psychiatric institution in Wales, has been ravaged by fire, theft and vandalism since its closure in 1995 and is on the brink of collapse, but Signature plans to transform it into two luxury hotels, a hospitality industry training centre and homes.
Signature Living's chairman Lawrence Kenwright said he is determined to "keep all of the original buildings, preserving the history and iconic status of this magnificent listed building".
"Our track record as a developer, owner and operator has clearly demonstrated that we have the necessary expertise and skill set in the regeneration of listed historical buildings. We breathe new life into these tired and often derelict listed buildings, turning them into thriving hotels and businesses," he said. "We will shine a light on Denbigh, as we have done with Liverpool, bringing inward investment, creating jobs and tourism."
Signature has revitalised several historic properties including Liverpool's 30 James Street hotel, the Coal Exchange in Cardiff – now known as The Exchange, the Waring Hotel, which was Belfast's former War Memorial building, and Preston's Old Post Office, redeveloped as a boutique hotel.
The Denbigh plans are being considered by the local council and if successful will result in the creation of 450 long-term hospitality jobs plus a further 100 jobs in a training centre of excellence for the hospitality industry. "This training centre will become a hub to help serve Signature Living's hospitality expansion, as we will soon be trading from 10 hotels throughout the UK with plans to expand into Europe," Kenwright added.
"Over the last ten years we have developed eight derelict buildings, each of which has become a commercial success. Many of these buildings had just lost their commercial viability and had fallen into disrepair," Kenwright commented. "We have learnt many lessons along the way perfecting the blueprint for these schemes. It is possible to have both empathy for the heritage of such iconic buildings whilst also modelling a commercial approach."
THPT Comment: Signature currently operates five hotels and has eight more in development and a great record on restoring period properties into vibrant hotel operations.
First Seen: The Caterer