Date: February 2018
Location: City Centre, Rotterdam, The Netherlands
Name: Hilton Rotterdam Hotel – five star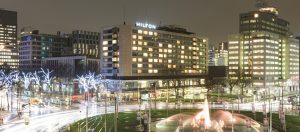 No. of Keys: 254
Seller: Park Hotels & Resorts,  a NYSE-listed real estate investment trust that owns a large portfolio of Hilton hotels in cities including New York, San Francisco, Chicago and Honolulu.
Park was established as an independent company on January 3, 2017, following its spin-off from Hilton, as a vehicle to continue Hilton's asset-lite policy.
Buyer: First Sponsor is investing €12.4 million for a 24.7 percent stake in the deal, alongside four high-net-worth individuals, the company said in a stock exchange filing.
Three other parties identified as the private investment vehicles of "high net worth individuals" are each taking a 24.7 percent interest. The remaining 1.2 percent stake is claimed by a "Dutch high net worth individual," according to the statement.
First Sponsor has rapidly become one of the largest hoteliers in the Netherlands, after acquiring Dutch hospitality group Queens Bilderberg (Nederland) for €171.4 million last August, giving it ownership of 16 hotels totalling 1,633 rooms across the country.
The company expanded its European portfolio in December 2017 by teaming up with City Developments Ltd (CDL) and Tai Tak Estates to purchase the Le Méridien Frankfurt Hotel for a total of 85 million euros ($100.1 million).
In the same month, First Sponsor proposed to acquire a second office building in Amsterdam's central business district for 55.5 million euros ($65.9 million).
The Cayman Islands-incorporated firm develops residential and commercial properties and owns hotels in China, in addition to its European portfolio.
CDL's Millennium and Copthorne along with Tai Tak Estates are controlling shareholders in First Sponsor.
Tai Tak Estates is the Singapore holding firm for the family of Ho Sim Guan, a former UOB executive.
Price: €50.4m
Price per Key: €198,425
THPT Comment: Interesting to see the relationship between First Sponsor and CDL. European hotels owned by just a few Singaporian dynasties!
First Seen: Mingtiandi