Date: August 2018
Location: In the trendy Flinders Bank enclave on the corner of Spencer and Flinders Street in the CBD, Melbourne, Australia
Name: St. Regis Melbourne – opening 2022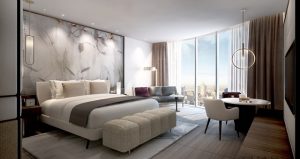 No. of Keys: 168
Seller: Owned by Century Group Aus, the site was known as Flinders Bank, the complex will include three terraced towers – two at 26 levels and one at 33. The tallest will accommodate a five-star hotel, and the remaining two will house one, two and three-bedroom apartments, plus retail and office space.
The $800-million development by Century Group Aus will occupy the 7250-square-metre site of the former Melbourne Convention Centre, which was demolished in 2016.
Century are involved with some stunning projects in China such as New Century Global Centre in Chengdu, which houses the 990 room InterContinental, Jiuzha Paradise with 1,020 rooms, Hilton Fuxian Lake with 700 rooms and others!
Century Group Aus is an Australian property partnership between two development companies, Exhibition and Travel Group (ETG) and China Century Group Inc.,
Buyer: Marriott International has today announced it will debut its ultra-luxury St. Regis Hotels & Resorts brand in Australia.
St. Regis Melbourne will cover floors 2-11 in a 33-storey mixed-use development. The hotel will offer a modest 168 rooms decorated and furnished in traditional luxury St. Regis style and all offering sweeping views of the city and Yarra River.
Guests in each room will have access to the renowned St. Regis butler service which can be accessed to personalise a stay to suit individual requirements dictated via special request and by preferences detailed in any of Marriott International's three (soon to be one) loyalty and rewards programs.
The hotel will be designed by Fender Katsalidis Architects and interiors envisaged by modern design studio Chada. An elite St. Regis bar serving a local twist on the brand's signature Bloody Mary cocktail will be among the food and beverage offerings along with a speciality restaurant and luxuriously appointed Drawing Room.
Additional guest facilities will include a 25-metre indoor swimming pool, fitness and wellness centre and the Iridium Spa and beauty salon. A function space and grand ballroom capable of hosting corporate gatherings and weddings will also be in-house.
Marriott International Senior Director, Hotel Development, Australia, New Zealand and the Pacific, Richard Crawford said the investment community in Australia was seeing a strong demand for luxury offerings.
"The St. Regis Melbourne will be an outstanding addition to our strong and growing footprint in the region, where we are on track to boast the largest portfolio of upper upscale and luxury hotels and resorts, with two-thirds of the new supply pipeline."
St. Regis Hotels & Resorts Global Brand Leader Lisa Holladay concurred, adding: "Melbourne's vibrant mix of world-class dining, art galleries and rich history makes it an ideal destination for the debut of the iconic St. Regis brand in Australia."
THPT Comment: Good to see a St Regis opening in Melbourne.
First Seen: Australia Hotel Management