Location: Bacolet Bay, Scarborough, Tobago, Caribbean

Name: The Blue Haven
Guide Price: POA
No. of Keys: 55 rooms and suites, with planning consent to expand to 104 keys

The Opportunity: The Blue Haven is a stylish boutique hotel with 55 rooms and suites. It is noted as one of the historical sites with remnants of an old fortress, cannon and surrounding ancient stonewall.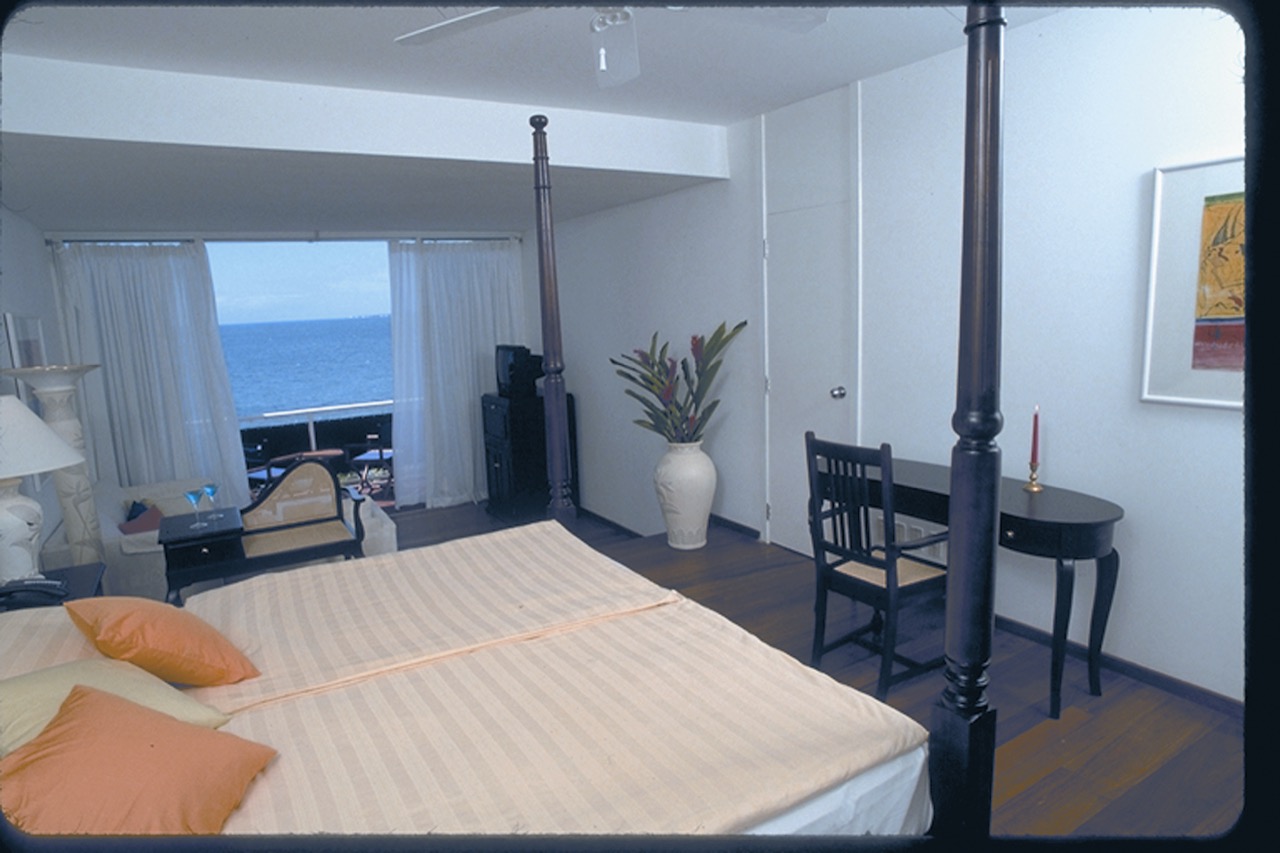 Robinson Crusoe was stranded on September 30th, 1659 on this very romantic palm fringed beach according to the book by Daniel Defoe. The anchor can still be seen on the Hotel site and is a main tourist attraction. The glamorous history continued when Hollywood discovered Blue Haven as scenery for several golden movies hosting film stars and royalties in the 1950s.
Blue Haven's idyllic location, on a majestic cliff surrounded by the azure blue sea the property combines the atmosphere and ambience of the old days with modern living. It's situated on a 7.5 acres prime oceanfront site and offers 55 units in total which includes 10 suites and 2 ocean-front villas (under renovation) all with private balconies and breathtaking ocean views.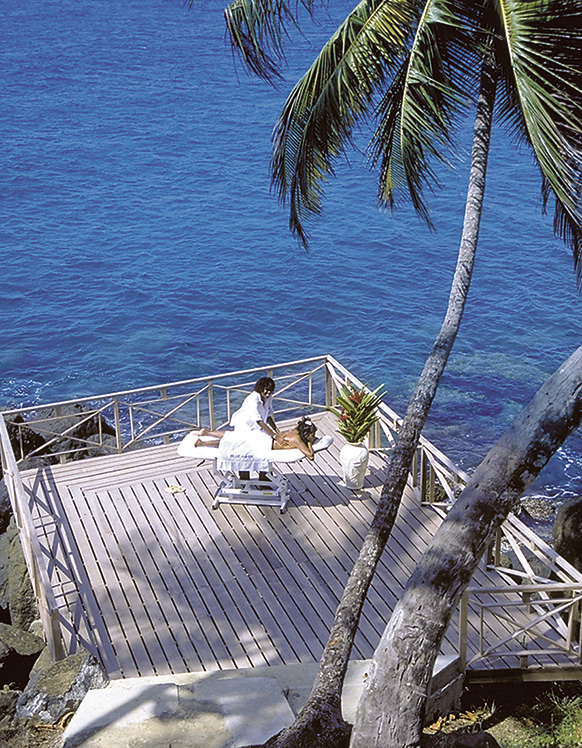 Hotel amenities include: a gourmet restaurant 'Shutters on the Bay' at the colonial style villa overlooking Bacolet Bay, a Lounge/ Terrace bar, a No-Problem-Beach-Bar, a meeting/ conference room, a fitness area, a swimming pool, tennis court and an appropriate back of the house facilities. There is a car park, beautiful surroundings with lush tropical vegetation and an alley of palm trees bordering the entrance road of the hotel. An additional asset is the potential for extension.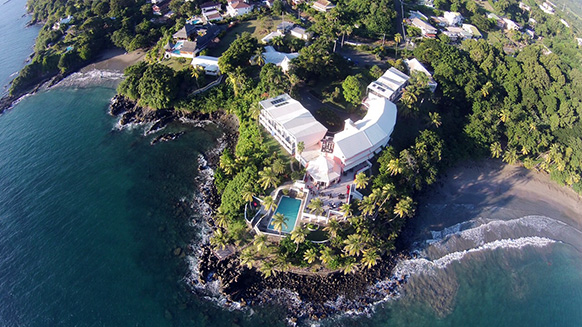 The Blue Haven Hotel is also a previous award winning property on several occasions having been awarded accolades such as Tobago's Leading Hotel by World Travel Awards, Caribbean's Premier Boutique Hotel (Caribbean World Magazine & TV), Best Eco Resort, Hotel of the Year (Tobago House of Assembly), Sustainable Tourism Award (Islands Magazine & CTO) and Travel Life Gold Award (Federation of Tour Operators – FTO)"
Specific benefits to the buyer include:
• Planning permission extended to a total of 104 rooms
• Tax exemption for a period not exceeding seven (7) years in respect of gains or profits;
• A capital allowance in respect of approved capital expenditure incurred by the owner or operator in the creation of a new tourism project or expansion of an existing tourism project.
• Customs and Excise Duty Exemptions under Section 22 – A permit for:
(a) the importation or entry into Trinidad and Tobago free of customs duty; and
(b) the purchase in Trinidad and Tobago with the privilege of a drawback of customs duties or excise duties, of such building materials which are not already duty free and of such articles of tourism equipment.
• Incentives for Tourism Transport Service Vehicles Under Section 4
-A license to import vehicles with the payment of Customs Duty at the rate of 10%
-Payment of Value Added Tax at the rate of 15%; and Exemption from the payment of Motor Vehicle Tax. A full written valuation is available from a respected surveyor/agency based in Tobago. DTO
Main Photo: The hotel and pool at sunset
Tenure: Freehold
Flag and Management: Both free
Current Owner: Private family
Agent: The Hotel Property Team
Guide Price: POA – the purchase can be split into three…The hotel site – 135,000 sqf. peninsula with 45,000 sqf. buildings including one four-bedroom ocean-front villa, under renovation; a further 159,000 sqf. ocean-front land with the beach bar, tennis and area to extend the hotel to 104 keys; The 3-bed sea-front cottage on 35,000 sqf. with scope to build pool and jetty. Payment: 10% down, with balance within 90 days.
Date Posted: June 2020
THPT Comment: A great opportunity to secure this award winning hotel, with fabulous views of the Bay, and the main attraction of this part of Tobago. Great price for prospective buyer.
Contact us for further information
This is a new feature on the THPT site…. Hotel & Serviced Apartment owners can be naturally reticent in publicising their property is for sale…for confidentiality reasons, for staff and current client reasons, so the properties featured in this section will either be "generic" or "name specific"
Each fortnight we mail the opportunities posted that week, but check-out the tab "Hotels Available" and call us for details of "Under the Table" – deals not posted on the site at all
The Hotel Property Team (THPT) is a small group of highly experienced business professionals. Between us, we provide a range of skills and experience which is directly relevant to those involved in the hotel property market.
For more information – Visit www.thpt.co.uk or email info@thpt.co.uk.
MISREPRESENTATION ACT 1967. This information is provided as a general guide and is not intended to be constructed as a statement of fact upon which interested parties can rely. All interested parties should make their enquiries by inspection or otherwise. Neither The Hotel Property Team (trading name of Impetus Marketing 2006 Ltd) nor any person in our employment has the authority to make, give or imply any representation or warranty whatsoever relating to the premises referred to in these particulars. These details do not constitute any offer, contract or any part thereof and all negotiations relating to the premises should be conducted through THPT.