Date: July 2018
Location: 13501 Lyndhurst Street, Austin, Texas, USA. The property is located within walking distance to the Austin MetroRail and 20 minutes from downtown, and offers guests easy access to HEB Center at Cedar Park, the Lakeline Mall and Concordia University.
Name: TownePlace Suites by Marriott Austin North Lakeline
Owner: Tharaldson Hospitality Management of Decatur, Illinois, who will also manage the hotel, under franchise. The TownePlace Suites is now open for business.
Tharaldson, headed up by Gary Tharaldson, started with a single hotel purchase in 1982 and now has 40 hotels in 14 US States, with a furthe eight in the pipeline, and has had 350 hotels through their hands during this time, under the Marriott, Hilton & Hyatt brands.
On average, a TownePlace Suites opens every six days. Built for travellers looking for a simple and friendly place where they can settle-in, keep their routine, and easily connect to the North Austin area.
"We are excited with the continued growth of the TownePlace Suites brand in the Austin area," said Diane Mayer, vice president and global brand manager, TownePlace Suites.
"At TownePlace Suites, we get it. We want to go above and beyond to do everything we can to make our guests feel comfortable. We encourage our guests to be real, and help them to do so by providing a seamless residential atmosphere with a friendly staff who genuinely care about our guests. That is what our brand is all about, and this property is a great example of that."
All service team members are thoroughly trained on local knowledge and look forward to connecting guests to the local area. Our floor-to-ceiling TowneMap® also helps guests instantly acclimate themselves to Austin by featuring great places to eat, play and explore.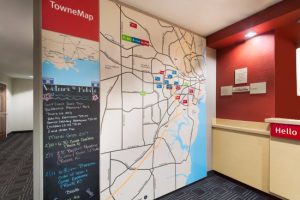 The property offers studio, one-bedroom and two-bedroom suites with fully equipped kitchens, as well as separate living/working and sleeping areas.
Guests can work and relax on their own terms in modern suites that feature full kitchens with stainless steel appliances and granite countertops, adjustable work spaces with built-in shelves and lighting, a large flat screen television, as well as luxurious new bedding.
Most rooms also feature the Home Office™ Suite, designed to provide guests with plenty of storage and flexible space to spread out and make it their own.
The TownePlace Suites Austin North Lakeline allows guests to maintain a healthy lifestyle with an array of food options. While on property guests can create their own complimentary hot breakfast every morning in the lobby area, and can fire up their stay by grilling up dinner on our outdoor Weber grills.
The 24-hour In a Pinch® market and On Us® coffee service offer guests the chance to get their snack and caffeine on whenever they feel the need.
THPT Comment: Marriott started the extended stay product with their Residence Inn brand…TownePlace has over 300 properties across United States and Canada…when might we see expansion into Europe and Asia?
First Seen: Hotel Online