Main Photo: The PokoPoko Clubhouse
Date: March 2021
Location: Mount Nasu, Japan
Name: Risonare Nasu Hotel
No. Keys: 41
Owner: Hoshino Resorts, established as a Japanese inn/ryokan by Kasuke Hoshino in 1914 in Karuizawa in Nagano Prefecture before it began the operation of other resorts in Japan. Today, it has evolved into a highly influential hotel management company and is run by 4th-generation family member Yoshiharu Hoshino. Providing a unique experience focused on the local charms of each destination and a high level of omotenashi Japanese-style hospitality, the company has expanded rapidly out of Karuizawa since 2001 and now operates 37 facilities both in and outside Japan under four distinct brands: HOSHINOYA luxury flagships, KAI hot spring resorts, RISONARE resort hotels, and OMO city tourism hotels.
Architect: Tokyo-based Klein Dytham Architecture has designed PokoPoko as a clubhouse and activity centre surrounded by forest for the Risonare Nasu hotel in rural Japan. Built near the town of Nasu in the shadow of the Mount Nasu volcanoes, the clubhouse is set within a forest clearing between the hotel's two existing accommodation blocks.
"The concept of the project was to create a fairytale building in a clearing of the forest," said Klein Dytham Architecture co-founder Mark Dytham. "We wanted the building to peek out between the trees and become an icon in the forest, as well as a landmark for the hotel when seen from the road that leads up to it," he told Dezeen.
Located on a pathway that connects the hotel's two locations, PokoPoko is made up of three connected timber cones that give the structure a distinctive outline.
"The clubhouse derives its form from the Japanese word poko-poko, which is onomatopoeic and means the sound of popping up – rather like a bamboo shoot popping up from amongst the trees," explained Dytham. PokoPoko will be used as an activity centre and space for the hotel's guests to relax. Each of the three cones was designed to have its own distinct function, with the main central one dedicated to cooking and dining.
Here guests and their children can participate in food workshops and make jams and pickles as well as pizza in the pizza oven. This central cone is flanked by two smaller spaces – one designed for children and one as a relaxing space for adults.
At the centre of the children's space is a white net that allows kids to climb to the top of the cone, which is surrounded by a ball pit. This cone also contains the clubhouse's toilets, which are flanked by a small climbing wall.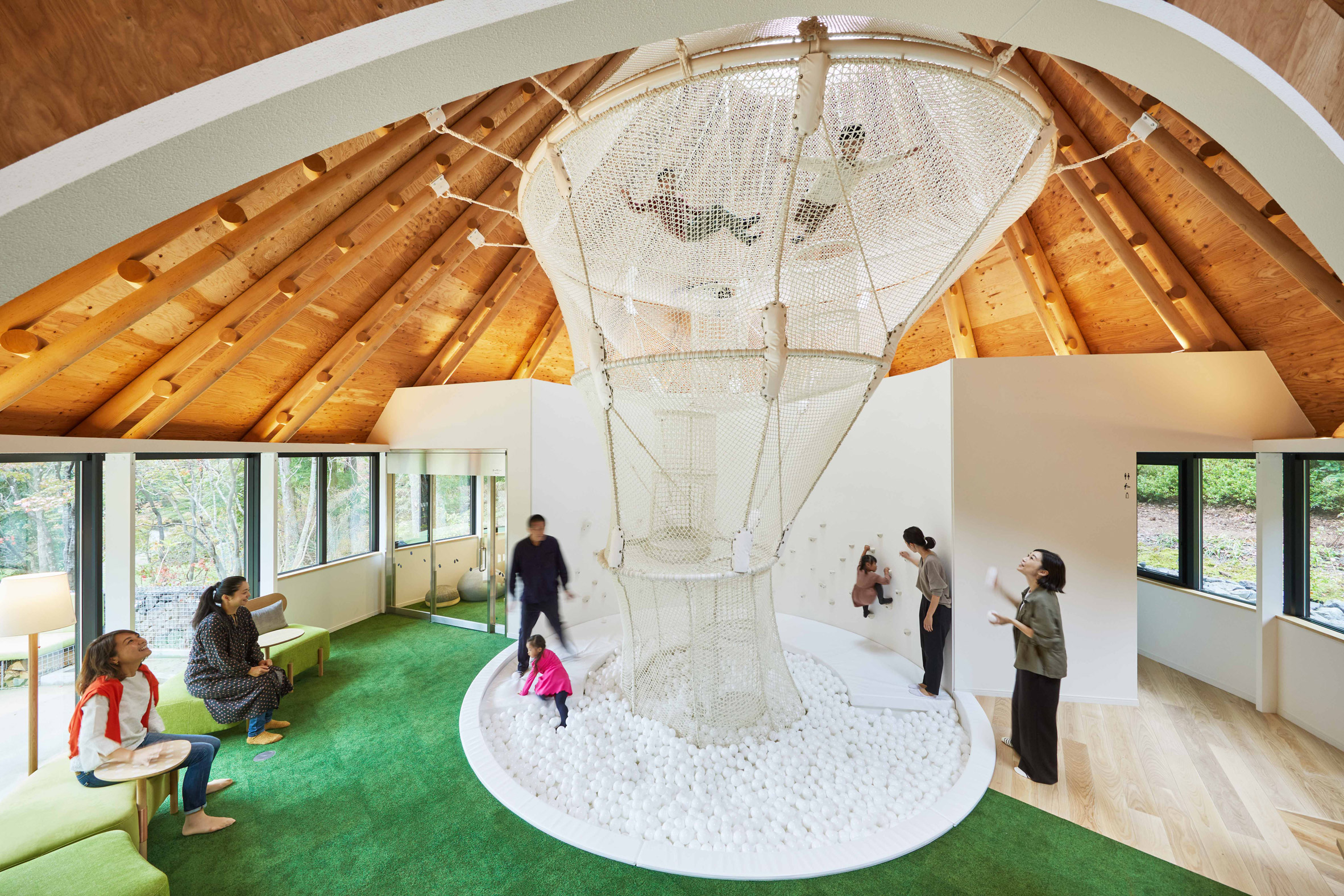 The adult's cone is centred around a fireplace surrounded by green modular sofas designed by Klein Dytham Architecture as part of its Dora Dora furniture collection, which was longlisted for a Dezeen Award in 2019.
The central and adult cone both open out onto the terrace in front of the clubhouse, where there is more seating and a firepit.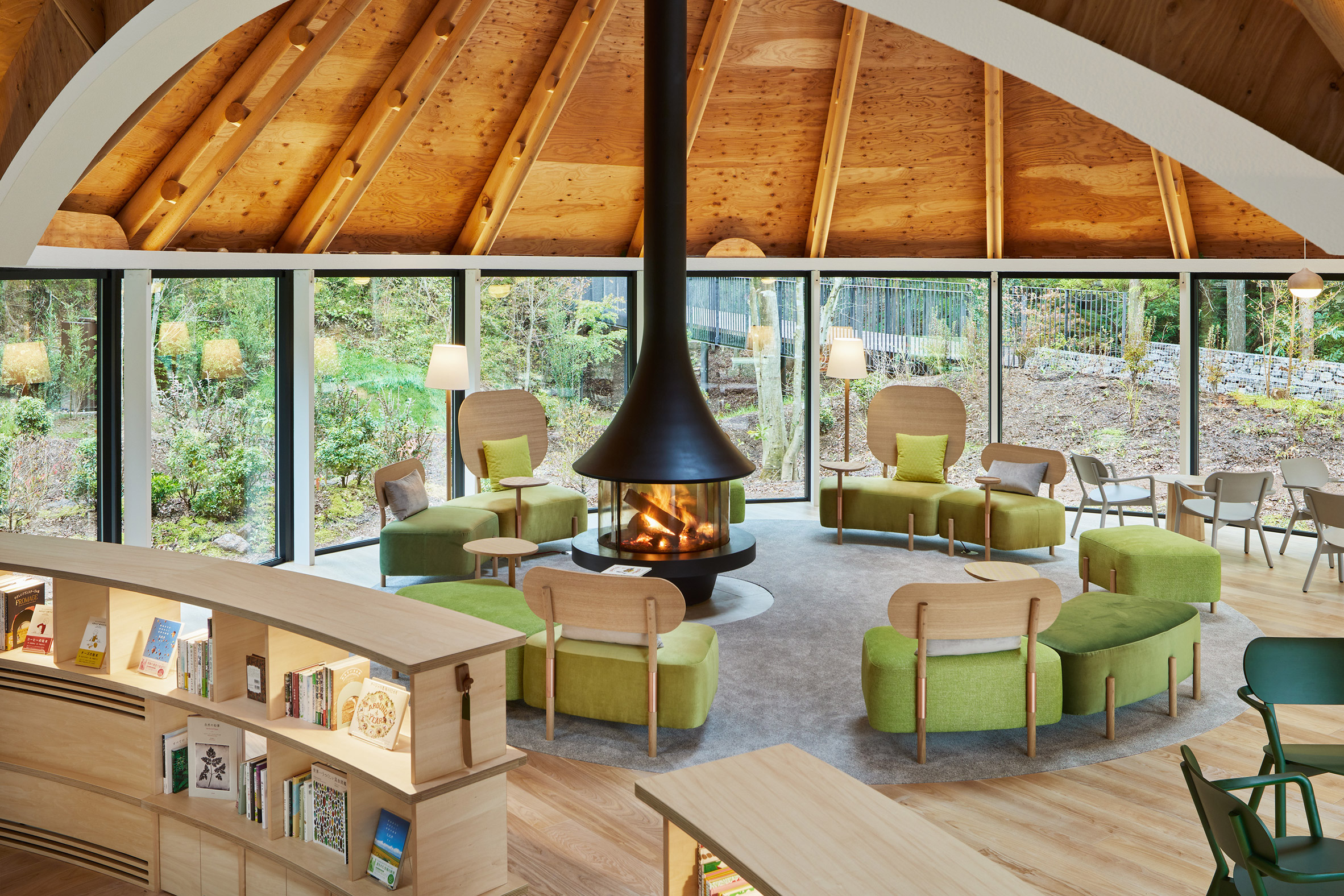 The building's roof structure was constructed from local pine. For each cone, a series of paired beams run between a steel ring above the clubhouse's glass walls with a steel ring around the roof light.
These beams were topped with plywood sheets to form a tensioned skin, which was topped with insulation and the shingle roof. "Local timber was a natural choice in this area of rural Japan," said Dytham. "Working with Japan's leading structural wood company, Shelter, we were able to develop a unique twisting structure."
Overall Dytham hopes that visitors will enjoy the project's sense of fun and come back to revisit the hotel. "Joy and fun are constant components of our designs, as they always make for memorable experiences – essential in hospitality projects where we want the guests and their kids to come back and stay again!" he said.
Based in Tokyo, Klein Dytham Architecture was founded by Astrid Klein and Dytham in 1991. The studio previously created a shingle-clad clubhouse and visitor centre alongside an ice rink in Japan's Karuizawa region.
Other projects by the studio include a "village" of shops, restaurants and co-working space within Amanda Levete's Central Embassy complex in Bangkok and a latticed community hall in the city of Sōma.
THPT Comment: Great design, immersive activity for both kids and adults, make this hotel quite stunning. Hoshino is a company that takes it's SDGs – Sustainable Development Goals seriously.
First Seen: Dezeen
The Hotel Property Team (THPT) is a small group of highly experienced business professionals. Between us, we provide a range of skills and experience which is directly relevant to those involved in the hotel property market.
For more information – Visit www.thpt.co.uk or email info@thpt.co.uk.