Main Photo: The Boswells store, as is
Date: January 2021
Location: Corner Cornmarket and Broad Streets, Oxford, England, UK
Name: The Store Hotel
No. of Keys: 101
Seller: The family-run Boswell & Co Department Store, which has had a presence in Oxford since 1738. 
Boswells was Oxford's largest independent department store, operating from 1738 and occupying this site from 1928 until its closure in 2020. The Boswells site includes the 1920s Boswells House at 1-5 Broad Street and is connected to 31 Cornmarket Street, built in 1912.
The 1920s exterior which faces onto Broad Street and the Cornmarket Street entrance will be cleaned and repaired, and its famous Boswell & Co signs will be retained.
Buyer: Oxford's oldest department store is to be given a new lease of life as a luxury hotel, after plans were approved by council officials.
Boswells, on the corner of Cornmarket Street and Broad Street, has been closed since April last year and a planning proposal was put forward in July to transform the building into a new four-star hotel and restaurant.
The plans had been submitted by developer Reef Group and were given the official approval by Oxford City Council's west area planning committee on Monday.
Now the building will be converted into a hotel, comprising 101 bedrooms, a basement gym, restaurant and bar and a new rooftop terrace.
The renovation of Boswells into The Store Hotel will include the demolition of the existing fourth floor and its replacement with a new fourth and fifth floor. The team have worked collaboratively with OCC officers, Historic England and the Oxford Design Review Panel to ensure the proposals are sympathetic to the celebrated Oxford skyline and do not appear overbearing whilst viewed from the surrounding streetscape.
Committee member councillor Louise Upton said the plans were "exactly the sort of development we need to keep our city centre alive", the Local Democracy Reporting Service  said.
Will Rohleder at Reef Group, added: "This project is an exciting opportunity for a new boutique hotel in Oxford City Centre which will benefit both local residents and the wider Oxford economy."
Reef Group are no strangers to development in Oxford….they completed their Oxford Preservation Trust award-winning mixed-use development at 4-5 Queen Street within Oxford's Central University and City Conservation area. The infill building sensitively addresses the crossing of Queen Street and St Aldate's at Carfax Tower in the centre of Oxford.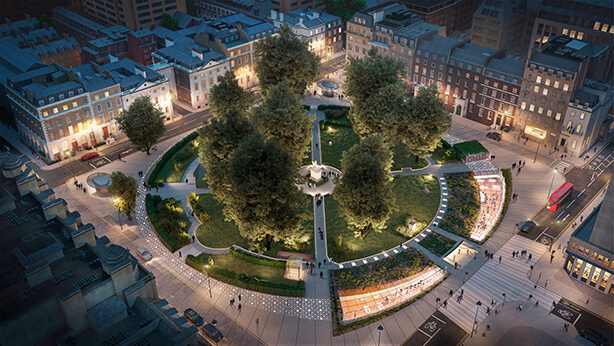 A new stone facade has a set back copper-clad top storey that has a fragmented form designed to provide visual interest and an appropriate scale of roof scape to the building within its wider urban context. On St Aldate's, the existing listed elevation has been retained and a new refurbished set of student rooms inserted behind it, above newly refurbished and expanded retail accommodation.
THPT Comment: Once again retail has turned to hospitality to save a city centre landmark.
First Seen: Boutique Hotelier
The Hotel Property Team (THPT) is a small group of highly experienced business professionals. Between us, we provide a range of skills and experience which is directly relevant to those involved in the hotel property market.
For more information – Visit www.thpt.co.uk or email info@thpt.co.uk