Location: Le Paradise Beach, Praslin, South Eastern Seabord, Saint Lucia. 20km from Hewanorra International Airport

Name: Westin had agreed to be operator – Le Paradis Beach, Golf & Marina Resort
Guide Price: US$29m – asset value when completed US$250m*
No. of Keys: TBA


The Opportunity: Le Paradis Beach, Golf & Marina Resort is a 608 acre multi-phased five star master-planned luxury destination resort on St. Lucia which is unfinished. Le Paradis project envisaged development in four phases but was unfortunately stalled in 2008, went in receivership in 2009 and Phase 1 was 52% complete.
Le Paradis development is located in Praslin which is on the south-eastern sea board of the island, about 20 minutes away from Hewanorra International Airport.
The Plan: Le Paradis elevations are from sea-level to 620-feet above sea-level. Every residence is guaranteed to have phenomenal vistas of the bay, marina or ocean.
The Award Winning, Upper-Upscale Marriott Westin Hotel and Resorts would be the Hotel-Operator for the Ocean Point and Ocean Reef Collection.
The Ocean Point and Ocean Reef Collection of Residences are Fully Furnished with Luxurious and Designer Furniture, Fixtures and Equipment.
608 lush and pristine acres of 5-Star luxury residences, amenities and services.
Troon Golf-managed signature course designed by Greg Norman. 18 Ocean View Holes on what is expected to be among the most photographed courses in golf….will need renewing.
Le Paradis' golf clubhouse site 275-feet above sea-level and boasts breathtaking views of the bay, the marina, the residences, ocean and horizon.
A 42-berth Marina accommodating yachts up to 200-feet in length and a Luxury Marina Village will be part of Le Paradis' second phase.
Nature trails and eco-tourism activities on the property and the surrounding areas.
Also in phase 2 (the "Sophisticated Phase") will be, along with a 5-star Boutique Hotel, an accredited Wellness Medical Spa & a Commercial centre with upscale shopping boutique.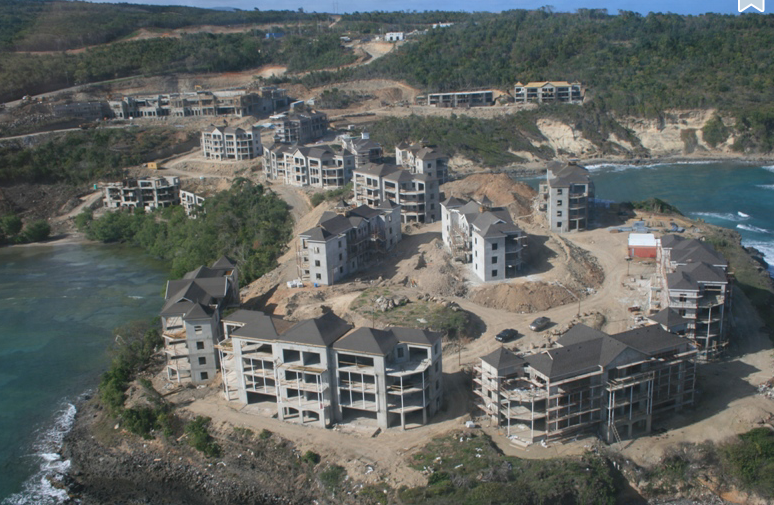 Current Position: Substantial construction and grading occurred, with records indicating over US$85,000,000 in expenditures. Grading for the golf course was completed but substantial erosion has occurred over time.
18 buildings of 3 & 4 storey heights in various stages of completion exist on the site. Four of which have been found structurally unsafe or questionable..
One "activities centre" block.
A large conglomerate structure housing the hotel project central facilities mainly on two floors.
Two wells with then proven production of clean water at 300,000 gallons per day are in place but have not been checked or serviced in years.
Tax concessions granted by the Saint Lucia Government remain in force.
The original resort was marketed on a condominium concept and that approval had been advertised as granted by the Government of Saint Lucia (GOSL) for several financial incentives including:-
a. Income tax and withholding tax exemption on rental income earned
b. Alien landholding licence fee waiver
c. Waiver of Income Tax
d. Stamp duty exemption
e. Vendor's Tax exemption
Le Paradis is identified as a flagship development for the tourism industry of Saint Lucia.
This project is viewed as an important catalyst for economic development of the surrounding communities.
All utilities are either in the vicinity or adjacent. Final connections of the services will be
required after project completion and inspection. A sewerage treatment plant will be required.
All necessary approvals or waivers from the Development Control Authority, the
architectural, engineering and golf course designers can be readily obtained.
It should be noted that this project is on the East Coast – Atlantic side, whereas all the major resorts are on the West Coast…however Caribbean Galaxy Real Estate broke ground in January 2020 on two luxury branded, 250 and 80 rooms, all-inclusive resorts at Cannelles, just 15 km away on the South East Coast  – ML
Main Photo: The area of Le Paradis, St Lucia, where the development is
Tenure: Queens chain lease is current….the Queen's chain is a distance of 186.5 feet from the high water mark! Not enough space to get into this here…we'll explain more if you have an interest.
Flag and Management: Free of both…Proposal in from Westin…will need a revisit
Current Owner: The receivers
Agent: Local agent in partnership with THPT
Financials: Projections available
Guide Price: US$29m – Current asset value, when finished is over US$250m – *this is the amount invested in the project prior to receivership in 2008.
Date Posted: May 2020
THPT Comment: A great opportunity to secure a 600 acres sea-front development at a bargain price. Interesting news re the planned development from Caribbean Galaxy Real Estate building in the area…We know the St Lucia government will bend over backwards to assist!
Contact us for further information
This is a new feature on the THPT site…. Hotel & Serviced Apartment owners can be naturally reticent in publicising their property is for sale…for confidentiality reasons, for staff and current client reasons, so the properties featured in this section will either be "generic" or "name specific"
Each fortnight we mail the opportunities posted that week, but check-out the tab "Hotels Available" and call us for details of "Under the Table" – deals not posted on the site at all
The Hotel Property Team (THPT) is a small group of highly experienced business professionals. Between us, we provide a range of skills and experience which is directly relevant to those involved in the hotel property market.
For more information – Visit www.thpt.co.uk or email info@thpt.co.uk.
MISREPRESENTATION ACT 1967. This information is provided as a general guide and is not intended to be constructed as a statement of fact upon which interested parties can rely. All interested parties should make their enquiries by inspection or otherwise. Neither The Hotel Property Team (trading name of Impetus Marketing 2006 Ltd) nor any person in our employment has the authority to make, give or imply any representation or warranty whatsoever relating to the premises referred to in these particulars. These details do not constitute any offer, contract or any part thereof and all negotiations relating to the premises should be conducted through THPT.