Date: August 2018
Location: Flagler Village, Fort Lauderdale, Florida, USA
Name: Home 2 Suites and Tru by Hilton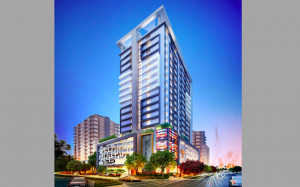 No. of Keys: 106 all suites and 112 rooms
Lender/Seller: Mission Capital Advisors arranged $28.5 million in non-recourse financing for the construction of a 218-key, Hilton-franchised hospitality property, from Bank OZK.
Buyer: A joint venture of Fort Lauderdale-based Merrimac Ventures and Driftwood Acquisitions and Development secured the loan.
The 19-story property at 315 Northwest 1st Ave. will feature two Hilton-branded offerings:
The Home 2 Suites will be an all-suite facility, featuring an array of in-room and public amenities, including conference and workspace areas and in-room kitchens.
The Tru by Hilton will be designed for young professionals and travellers, and will feature an amenity package that includes a fitness centre, game room and lounge.
The two hotels will have separate lobbies, and will each have access to the building's 102 parking spaces and a 5,000-square-foot outdoor pool deck and bar.
Mission Capital's Jordan Ray, Stephen Emery, Ari Hirt, Jamie Matheny and Lexington Henn represented the JV.
THPT Comment: 2 good but under-known Hilton brands for this dual-hotel site.
First Seen: Connect Real Estate