Date: April 2018
Location: Santa Eulalia del Rio, Ibiza, Spain
Name: W Ibiza – opening Summer 2019 – five star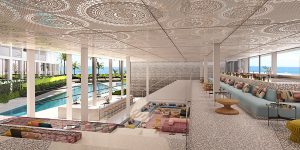 No. of Keys: 162 plus 4,000 sq. ft. Away Spa
Seller:
Buyer: Inversions Hoteleres Ebza S.L.
"With its playful energy and bohemian spirit, Ibiza is an ideal destination and perfect match for W Hotels," said Anthony Ingham, Global Brand Leader, W Hotels Worldwide.
"We have been present in Ibiza since 2010 with a variety of W music events and partnerships, so we're thrilled to be finally opening a W Hotel on the island that we know our guests love.
Following the success of W Barcelona and the forthcoming debuts of W Madrid (2019) and W Marbella (2021), W Ibiza will remix the expected and provide a new take on the (in)famous island."
Three distinct concepts are being designed for dining, drinking and relaxing, which will be complemented by a lively rooftop sunset bar and adults only WET Deck (the brand's signature take on the poolside scene).
A second WET Deck will have direct access to the beachfront promenade and the white sands of Santa Eulalia beach, which guests will be able to enjoy from W Ibiza's 'Chiringuito'.
With the brand's iconic Whatever/Whenever® service available 24/7, and the clued-in W Insider on hand to grant access to the hot-spots nobody knows about, guests will be able to have whatever they want, whenever they want it….(we fear the worst!)
W Ibiza will join a portfolio of more than 50 W Hotels around the world, including recently opened locations such as W Shanghai – The Bund and W Goa.
The hotel will also be the thirteenth W Escape, the brand's playfully luxe take on the traditional resort experience, which includes sand, ski and entertainment destinations around the world.
Each W Escape provides a signature Sunset Beats ritual to warm up for the night ahead, while also offering epic experiences for adrenaline-seekers and lounge junkies alike (think shaman healings at W Bali or private DJ master classes at W Barcelona). W Hotels is on track to have 75 hotels globally by the end of 2020.
THPT Comment: Not many hotel brands can boast their own music playlist on Spotify!
Check out the W Ibiza-inspired playlist, created by the brand's European Music Director, Kristina Dolgova, on Spotify today: http://whotels.ht/WIbizaPlaylist.
First Seen: Marriott website