Main Photo: The Waldorf Astoria Maldives Ithaafushi
Date: January 2021
Location: The Maldives
Name: Waldorf Astoria Maldives Ithaafushi
No. of Keys: 4 on the island, TBA for the main hotel
Owner: Hilton have  announced the launch of Ithaafushi – The Private Island: part of Waldorf Astoria Maldives Ithaafushi and the largest private island in the Maldives. As the crown jewel of their luxury portfolio in Asia Pacific, Ithaafushi – The Private Island is a true epitome of exclusivity, perfectly placed within one of the most inspirational destinations in the world. Guests of Ithaafushi – The Private Island are promised the iconic True Waldorf Service and beyond where a dedicated team anticipates every need and delivers the brand's elegant and effortless service at every turn.
Featuring an overwater spa and personal team of concierges, The Private Island at Waldorf Astoria Maldives Ithaafushi opened this week, and offers all the Kim Kardashian West vibes you don't want to miss.
It's hard to believe that only a few short months ago, Kim Kardashian West, along with her "closest inner circle" of family and friends, set off on vacation to the French Polynesian island of Tahiti. Love her or loathe her for it, while the possibility of jaunting off to your own private island remains a fantasy for the majority of us mere mortals, we can at least dream about the possibility of traveling to one when the time is right.
While there's been a few new hotel openings in the region latest, the Waldorf Astoria Maldives' brand new Ithaafushi – The Private Island, is worthy of a Kim Kardashian West reprisal trip.
Set in the heart of the Indian Ocean, just a 40-minute ride from from Malé on one of the resort's six luxury yachts or 15 minutes via seaplane, when you arrive, you'll find a sprawling four bedroom estate, overwater villas, spa and yoga pavilion as well as your very Personal Concierge team who will be on-hand to "ensure your every need is met with utmost discretion."
"We are committed to making Ithaafushi – The Private Island a highly sought-after, world-class destination for the privileged few," Etienne Dalancon, general manager, Waldorf Astoria Maldives Ithaafushi said in a statement around the opening this week. "Our dedicated team is devoted entirely to ensuring every moment is absolutely personalized, with exceptional service and unsurpassed attention to detail. We will pull out all the stops to ensure the most memorable stay for our guests, every single time."
Capable of accommodating up to 24-guests and spanning close to 350,000 square feet in all, according to the announcement made by the Waldorf Astoria this week, 'Ithaafushi,' which translates to 'Pearl Island,' is the largest Maldivian private island to open to date.
Nestled among white sands and crystalline blue waters that has made the Maldives one of the world's most desirable bucket list destinations, the opening of The Private Island follows in the footsteps of the Waldorf Astoria Maldives Ithaafushi which opened to much critical acclaim in 2019. While it's a quick speed boat ride away from it's sister island and main hub of Waldorf Astoria Maldives Ithaafushi, The Private Island promises guests unparalleled privacy and exclusivity in equal measure.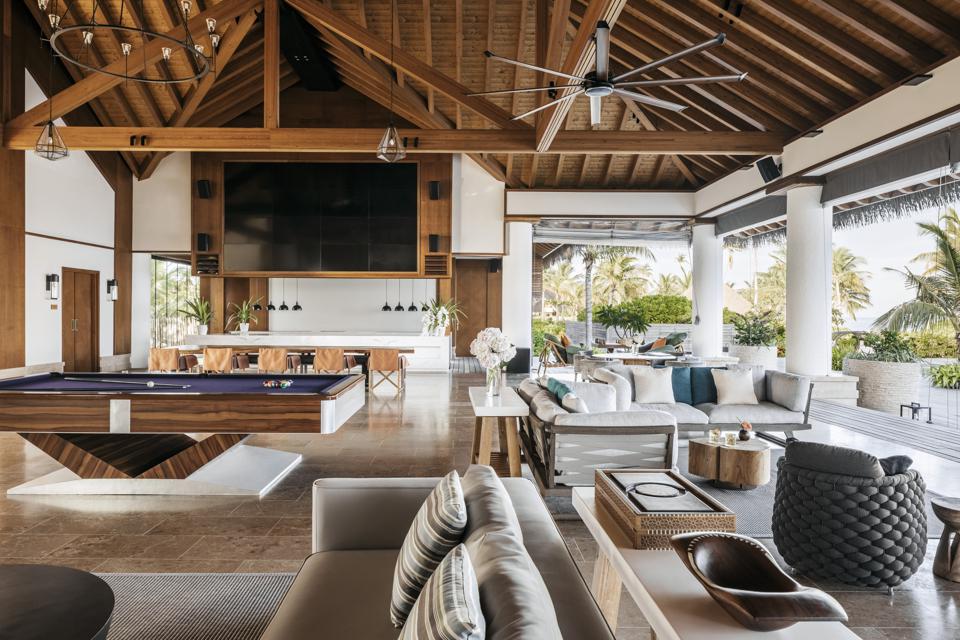 Above, the estate's common living room, Haali, caters to guests of every generation. The open air space features unfettered panoramic ocean views and extends across expansive indoor and outdoor areas, all set within a botanical sanctuary.
Guests can host memorable celebrations under the stars, watch a movie on the cinematic LED screen or bask in the 35-meter infinity pool.
Above, one of three accommodation options on the island, this two-bedroom overwater villa offers a unique ocean experience with two spacious master bedrooms complete with double dressing rooms, indoor and outdoor rain showers, shared living room, infinity pool and jacuzzi.

A separate three-bedroom beach villa, set within lush gardens and coconut palm canopies, has its own beach access and two swimming pools!
According to the press release, every aspect of the island has been expertly choreographed to feature a refined, yet modern design touches with a nod to Maldivian charm.
Below, in the four bedroom residence, guests will enjoy two king bedrooms, two queen bedrooms, jacuzzis and an expansive common living area, all with direct access to the beach.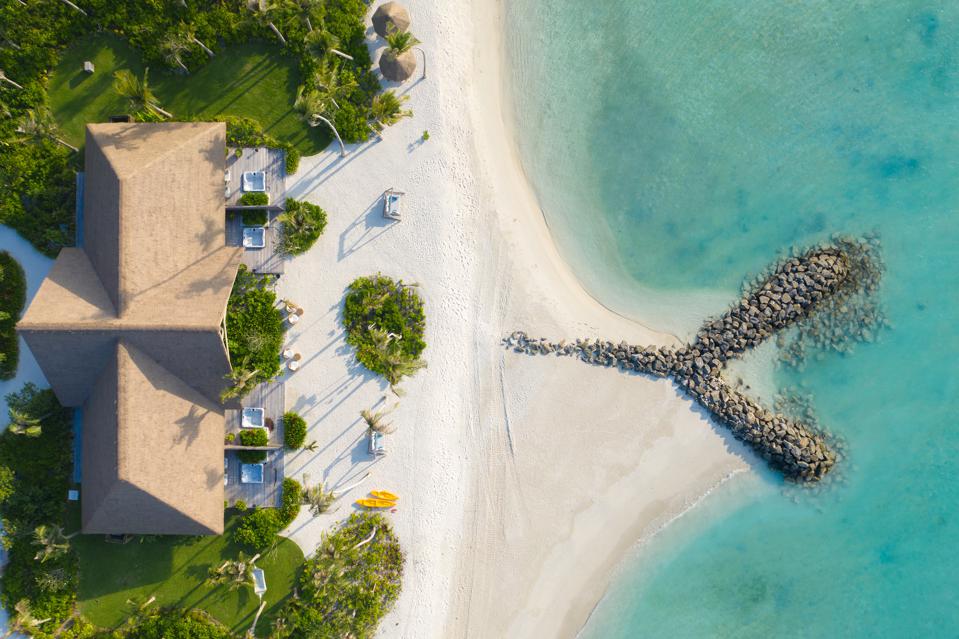 Surrounded by tropical greenery and white sand beaches, guests will be treated to a sense of calm and relaxation. Every inch of this expansive paradise is waiting to be discovered, whether by a leisurely stroll along the meandering pathways set amidst lush palms, by bicycle or on one of the island's buggies.
On hand 24/7, a dedicated "Wellness Concierge" will be available to provide guests with customized activities. With a focus on helping guests reconnect with nature, the meditation and yoga pavilion along with fully equipped gym and overwater spa are included in the stay. Personal training and fitness classes are also upon request.
Post work out, guests can always post up on one of the sea swings or take a moment to relax under the palm hammocks, sunken loungers or bask in one of the five luxurious pools.
Of course the Maldives is known as a world class diving destination, and from exploring the local reefs to a plethora of water-sports and yacht excursions, there's no shortage of activities to choose from. For guests who wish to embark on an off-island experience, perhaps a sunset dinner on your own private sandbank in the middle of the ocean.
The resort is only available for total buyouts and nightly rates start at US$75,000+ per night.
THPT Comment: Well this pretty much up there in terms of exclusive luxury! Glad to see the area still exudes confidence for such investment…although we hear that pre-Covid the luxury hotels asking for $1,500 plus rate per night, were struggling…perhaps Covid will enhance their desirability.
First Seen: Forbes
The Hotel Property Team (THPT) is a small group of highly experienced business professionals. Between us, we provide a range of skills and experience which is directly relevant to those involved in the hotel property market.
For more information – Visit www.thpt.co.uk or email info@thpt.co.uk