Date: April 2018
Location: Eastern coast of Attica, Vravrona, near Athens Intl airport, Greece
Name: Dolce Attica Riveria Hotel (was Mare Nostrum Resort)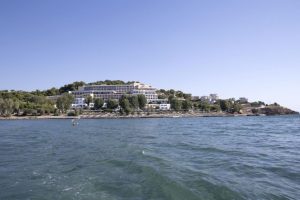 No. of Keys: 346 plus seven meeting rooms that can take 1,700 pax.
Owner: Xenotel Group Hotels
New Management: Zeus International, who formed a partnership with Wyndham in 2017, headed up by Haris Siganos, CEO of hotel management and consulting company Zeus International and Wyndham Hotel Group's partner in Greece.
The Dolce Attica Riviera is the latest addition to the growing portfolio of Wyndham Hotel Group in Greece, which also includes teh Wyndham Grand in Athens, Ramada Attica Riveria and Ramada & Wyndham Loutraki Poseidon Resort Hotels.
"We are delighted to extend this brand to this exciting destination with our reputable partner Zeus International," Edwin Broers, Regional Vice President of Central and Eastern Europe, Wyndham Hotel Group, said.
Wyndham Hotel Group acquired the Dolce Hotels and Resorts hotel brand in 2015.
THPT Comment: As previously stated, delighted to see Wyndham opening new hotels in a serious way, in Europe
First Seen: GTP – Greek Travel Pages