Date: August 2018
Location: Argyle Street, Glasgow, Scotland, UK
Name: Yotel Glasgow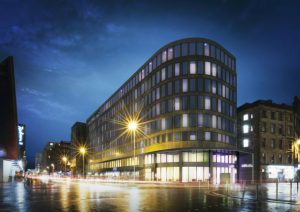 No. of Keys: 256
Seller: The Westergate Building was built for BT in 1984
Buyer: Yotel has signed its fifth UK property, in Glasgow.
The Westergate building site will also have a rooftop bar and bowling alley.
Yotel said the development will be led by Glasgow-based architects Mosaic Architecture and Design, and will create more than 100 new jobs.
Recent expansion plans in the city such as the SEC and Barclays new headquarters were highlighted as key reasons for the situation of the new hotel.
Yotel chief executive Hubert Viriot said: "Glasgow is a forward-looking city that has real vibrancy and energy, bolstered by careful planning and investment initiatives.
"The city is building on its excellent infrastructure and is shaping up to be a world-class business destination.
"These were all important characteristics that helped us choose Glasgow as our next UK location and we're excited to be part of the positive momentum that is driving growth in the city."
THPT Comment: Yotel say, with backing from Starwood Capital, the brand aims to have 60 hotels open by 2023. Some move from Simon Woodroffe starting Yotel in 2008, and Yo Sushi before that in 1997.
First Seen: AOL