Main Photo: The Accor re-opens with their All Stay Well campaign
Date: June 2020
Location: Global
Name: Accor
No. of Keys: 800,000 or so
What did they do: Produce some great YouTube marketing for when it all comes back. As at end of April 2020, Accor says it can see "initial signs of business recovery", with 250 hotels having reopened.
The French hotel group said, in May  that "while operations are still challenging", the relaxation of lockdown restrictions in France, along with measures announced by the government to support tourism in the country are "favourable elements".
Accor added that revenue per available room (RevPAR) in China is showing some recovery – rival hotel group Hilton this week announced it had reopened all of its closed hotels in mainland China.
A total of 42 per cent of the Accor network is now operating (June 2020).
Meanwhile Accor has signed an agreement with a consortium of five banks for a new €560m Revolving Credit Facility (RCF), complementing an undrawn €1.2bn RCF signed in July 2018.
It brings the group's liquidity position to over exceeds €4 billion, which it says equates to over 40 months of operations under current market conditions.
By mid-June, they said that 70% of their global hotels would be re-open by July.
And then in July 2020….Accor Live Limitless, launches a groundbreaking digital cartoon to showcase the iconic new away Paris Saint-Germain football jersey and celebrate ALL's global ambition to revive football fans' passion while inspiring travellers to live limitless experiences around the world.
Made in collaboration with the multi-disciplinary award-winning Illustrator Spiros Halaris, the cartoon celebrates football's return to Parc des Princes for the 2020/21 season as well as ALL – Accor Live Limitless, the daily lifestyle companion that brings together all the benefits, services and experiences offered by the Accor universe.
ALL's partnership with Paris Saint-Germain, first launched in 2019, brings together the world-leading hospitality group with the world's fastest-growing football club.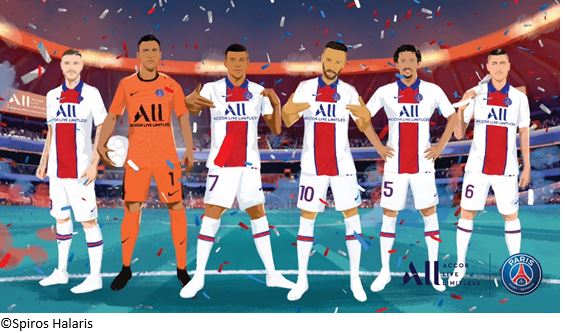 The new Paris Saint-Germain jersey, based on an iconic design in time for the historic club's 50th anniversary celebrations, has been long-awaited by fans and is inspiring players to get back to the game they love after an unprecedented break due to Covid-19.
Because access to the players was not possible due to lockdown, ALL – Accor Live limitless chose instead to create this premium animated cartoon to show off the new away jersey and the very best elements of our two universes: teamwork and passion. With this cartoon, we also aim to inspire people with positivity and encourage them to reignite their love of travel, through the rediscovery of their 110 destinations.
THPT Comment: Great marketing to accompany their hotel re-openings
First Seen: Luxury Travel Advisor
The Hotel Property Team (THPT) are a small group of highly experienced business professionals. Between us, we provide a range of skills and experience which is directly relevant to those involved in the hotel property market.
For more information – Visit www.thpt.co.uk or email info@thpt.co.uk.