Date: March 2018
Location: 26 hotels and nearly 2,350 rooms in European major cities.
Name: easyHotel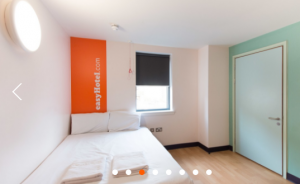 Seller: easyHotel – the "super-budget" hotel chain which was created by Sir Stelios Haji-Ioannou, the founder of easyJet, in 2004.
At the end of the placing, easyGroup Holdings Ltd and other parties acting in concert with Sir Stelios Haji-Ioannou, who have been supportive of the transaction, will be the second largest shareholder with approximately a 26% stake.
15 new hotels and nearly 2,050 rooms are planned for opening in 2018 and 2019 in the cities of Barcelona, Sheffield, Leeds, Ipswich, Cardiff, Milton Keynes and Oxford. In addition, one potential project for 200 rooms expected close to a major French airport."
Buyer:  ICAMAP, an independent investment fund specialising in real estate, created in 2014 by Guillaume Poitrinal, Harm Meijer and Alexandre Aquien.
ICAMAP intends to foster the growth of small and medium-sized property companies in Europe. ICAMAP manages a Private Equity Real Estate Fund with an investment capacity of € 500 million which may rise substantially through co-investments.
ICAMAP is to take the majority stake in easyHotel, lifting its share from 29.9% to 38.7% of the share capital after the increase was approved at Shareholders' General Meeting today (12 March).
Harm Meijer, one of the founding partners of ICAMAP, will become a non-executive member of the Board of Directors.
The £50m placing will enable easyHotel to accelerate its development across Europe, following its integrated model of developer, investor, operator and hotel franchisor.
Guillaume Poitrinal, founding partner of ICAMAP said: "We are pleased to be able to contribute to the expansion of one of the finest super-budget hotel concepts on the market. easyHotel will be able to count on our efforts to support the growth of its network in the largest European cities for the years to come."
Guy Parsons, CEO of easyHotel, said: "I would like to thank our existing shareholders and welcome our new investors for their support of this capital raise.
Further, on behalf of the Board I would also like to welcome Harm Meijer, co-founding partner of ICAMAP, as a non-executive member of the Board with effective from the admission of the new shares, and believe the Company will benefit from his real estate, operational and financial expertise."
THPT Comment: Just recently we said that easyHotel was making great progress since CEO Guy Parsons came on board in 2015…this funding confirms that position.
First Seen: Co-Star