Date: August 2018
Location: Queen's Road, Central, Hong Kong
Name: Mojo Nomad Central – four star, opening August 2018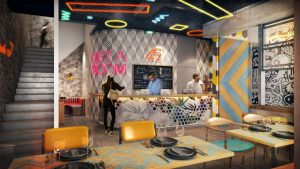 No. of Keys: 56
Seller:
Buyer: Ovolo Hotels Group has announced that the second Mojo Nomad hotel is set for development in Hong Kong. Mojo Nomad Central, the latest micro concept from the Australian hospitality brand, will debut this September alongside the company's maiden Hong Kong outpost Mojo Nomad Aberdeen Harbour and Ovolo Southside and Ovolo Central.
With an emphasis on community, the 56-room Mojo Nomad Central will be appointed with communal spaces to reflect the brand's ethos of promoting the "homstel" co-living lifestyle. The property will feature a variety of accommodations including private options and women-only dorms. A party room configuration will sleep up to 14 guests. The hotel bar will function as a reception desk, adorned with neon signage with phrases like "Get a Room." The two-story restaurant Te Quiero Mucho embraces the signature neon elements, as well.
Private room types range from simply 'S' to 'XL,' while room-sharing options are also available for those who don't mind meeting a new roomie during their travels, where each bed comes with individual televisions and bluetooth headphone compatibility.
Ovolo, founded by Girish Jhunjhnuwala in 2002, have 8 hotels in Australia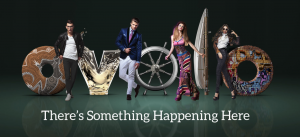 THPT Comment: A truly "funky" hotel brand…dubbed as the first 'micro-living' concept of its kind in Asia, the Mojo Nomad brand is "geared toward dynamic travellers who appreciate lively design, conviviality and warm hospitality."
Following along the global trend of living within serviced, shared spaces, the hotel particularly emphasises the use of communal venues as a way to build a sense of community. A philosophy being exploited by the major chains, such as Hilton's Canopy and Curio, Langham's Cordis, IHG's Even and Indigo, Shangri-La's Jen, Hyatt's Centric, Marriott's Moxy, Loews' OE Collection, Radisson's Red, Best Western's Vib…we could go on!
First Seen: Life Style Asia