Date: July 2018
Location: Paddington, London, UK
Name: The Chilworth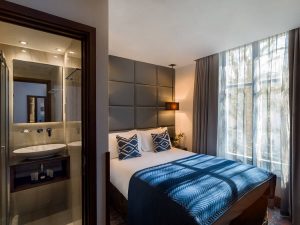 No. of Keys: 124
Was: The Shaftesbury Premier London Paddington Hotel
Who: Montcalm Hotel Group (including Shaftesbury Hotels), headed up by Faisal Lalji.
The launch of The Chilworth marks the first townhouse for the luxury hotel group – an urban boutique retreat and little London hideaway where "every detail is designed to enhance your well-being as well as comfort during your stay."
Located just a few minutes from Paddington station, The Chilworth is set in a beautifully refurbished Georgian townhouse.
Every detail of the guest experience has been designed to provide the ultimate in personal service, from the hotel's very own well-being ambassador to the pillow menu, which can be pre-selected prior to arrival.
In the restaurant, the menus draw on elements of health and well-being, reflecting a philosophy of nurturing the soul as well as the body, whether for breakfast, lunch or dinner.
There is also a stylish bar for relaxing with pre- or post-dinner drinks, including signature cocktails.
The Chilworth's compact urban spa features a jacuzzi, gym, steam room and an extensive range of treatments as well as a yoga suite and outdoor yoga classes (weather permitting) in nearby Hyde Park, where walking tours can also be arranged.
THPT Comment: This hotel group has done well, starting with a somewhat mixed bag of three star hotels, acquiring The Montcalm in Marble Arch, in 2008 and capitalising on the name and brand by opening five more Montcalm hotels in London. This latest move takes the Canadian property group into a fully-fledged luxury hotel company.
First Seen: Hotel & Catering News