Main Photo: the new Hilton Garden Inn in North Wales
Date: December 2020
Location: Adventure Parc, Dolgarrog, Snowdonia, North Wales, UK
Name: Hilton Garden Inn Snowdonia – opening Spring 2021
No. of Keys: 106 plus Wave Garden Spa
Owner: The Ainscough family, who have owned the land for some years, originally under the banner of Surf Snowdonia. The hotel is being built on what was unused land.
Manager: North Wales is to get a well-being boost next year with the launch of a new £1.25m Wave Garden Spa, due to open in March.
Situated within the grounds of the Adventure Parc Snowdonia in the Conwy Valley, the new 650 sqm addition will launch on March 26 next year and will connect directly to the new 106-bedroom Hilton Garden Inn Snowdonia.
The spa will comprise a number of wet and dry spaces, including a vitality waterfall pool, steam room and Himalayan salt sauna, plus a wooden barrel sauna, herb garden and yoga studio as well as an outdoor pool.
The Wave Garden Spa has partnered with marine skincare brand, Thalgo and Tribe517, a product line made in Wales using locally sourced natural ingredients, to offer a range of treatments within the spa's five treatment rooms.
Announcing the opening of the Wave Garden Spa, Adventure Parc Snowdonia's managing director, Andy Ainscough said: "The Wave Garden Spa is the exciting next step in our plans for Adventure Parc Snowdonia to be a destination for well-being, incorporating exhilarating activities and adventures with the finest facilities to de-stress, relax and rejuvenate. Our family owned business has been built on our passion for the great outdoors, and our new spa fully embraces this with outstanding views, the sound of rolling waves and a stunning spa garden."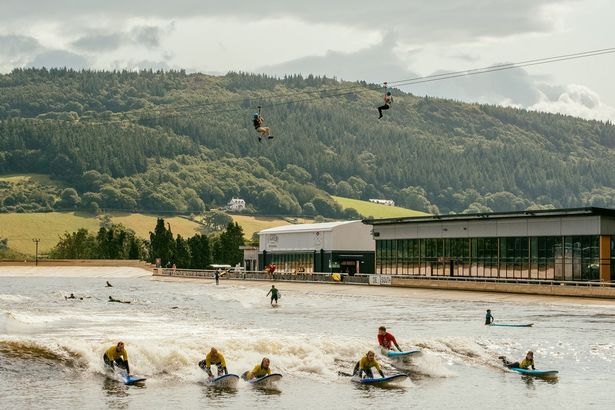 Construction of the new £11 million Hilton Garden Inn Snowdonia and Wave Garden Spa is currently in its final phase and is due to be completed in January.
The high-octane attraction boasts the UK's first inland wave pool, a huge indoor adventure site, plus outdoor ziplines and climbing facilities.
Guests at the 106-bedroom hotel are promised a space to relax and unwind, with 'big views' from all sides – overlooking the surf lagoon, the mountains, and the forests that surround the site.
On the ground floor, guests will find Zephyr's Restaurant & Bar while the Wave Garden Spa will feature indoor and outdoor treatment areas, vitality pools, a yoga studio, hammam and Himalayan salt sauna.
There is capacity for conferences and events, and the site will be licenced for weddings and civil partnerships. The Hilton has now released the first preview images of the hotel's bedrooms, which have been designed with a muted colour scheme influenced by the Snowdonia landscape.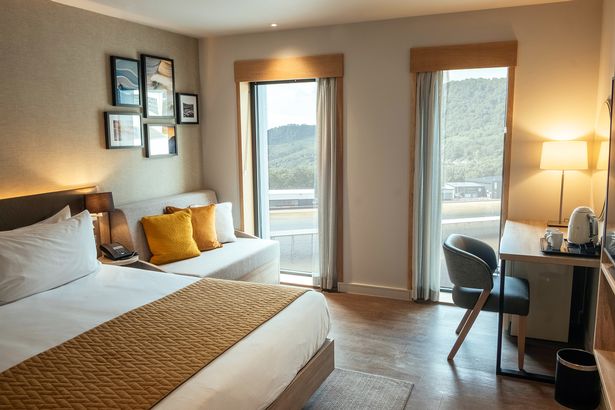 The bedrooms all have stunning views. Bosses at Adventure Parc Snowdonia are optimistic that the region could very well see a boom in tourism after an incredibly challenging year.
Andy Ainscough, said: "We've been heartened by the demand for longer breaks, with many more guests than we anticipated checking in for seven and ten day holidays. "People are excited by the idea of staying in our adventure hub, as much for our on-site adventures and spa facilities as our proximity to the big landscapes of the Snowdonia National Park.
Jim Jones, CEO of North Wales Tourism, said: "At North Wales Tourism we are extremely excited by one of the most renowned hotel brands becoming part of our dynamic regional tourism destination. "It will come at the perfect time to give our £3.6 billion tourism economy a real boost as we restart after a miserable 2020.
THPT Comment: Congrats to this part of North Wales…as they say, a welcome boost to the region.
First Seen: Manchester Evening News
The Hotel Property Team (THPT) is a small group of highly experienced business professionals. Between us, we provide a range of skills and experience which is directly relevant to those involved in the hotel property market.
For more information – Visit www.thpt.co.uk or email info@thpt.co.uk