Date: June 2018
Location: Plas Glynlliforn, near Caernarfon, Gwynedd, Wales, UK
Name: TBA – opening 2020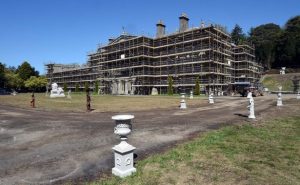 No. of Keys: Between 35 and 42
Was: 102 bedroom, Grade I listed, manor house. The property was being developed into a hotel and wedding and conference venue before it went into receivership in 2013; and was in a dilapidated state when the Williams's bought it in 2016.
Plas Glynllifon was originally built by Spencer Bulkeley Wynn, the third Lord Newborough, with the main house completed in 1848. Thomas John Wynn, the fifth Lord Newborough, was forced to sell Glynllifon in 1948 to a timber merchant, who sold much of it on six years later to the council for use as an agricultural college.
Courses are still run at the site overseen by Grŵp Llandrillo Menai and will be relocated to the north of the estate.
Owner: Paul and Rowena Williams
The south wing of the property is almost finished, the ground and first floors are decorated and furnished, and work has started on the second floor.
The couple's other hospitality businesses, including the Seiont Manor hotel, Plas Brereton and Plas Ty Coch in Caernarfon, and Fronoleu Country House in Dolgellau, are being developed to help fund Plas Glynllifon.
The Williams previously owned the Radnorshire Arms hotel in Presteigne, Powys; the Knighton hotel in Powys; and the Castle Inn in Wigmore, Herefordshire, under their Rural Retreats and Leisure company.
The couple sold Rural Retreats and Leisure in January to Coast2Coast for more than £10m to fund their new North Wales projects after relocating to the area.
The couple have also put forward proposals to Gwynedd Council to take ownership of the grounds owned by the council, where the park would be managed by a 'community interest company' including representatives from the council, public, Grŵp Llandrillo Menai and the hotel, and would remain open to the public.
Development Cost: £20m
THPT Comment: What a great couple to spend all this energy into developing some great hotels in this interesting part of Wales.
First Seen: The Caterer