Date: August 2018
Location: Larnaca, Cyprus
Name: Radisson Blu, Larnaca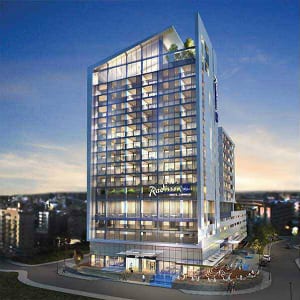 No. of Keys: 106 rooms and suites
Seller:
Buyer: Sunnyseeker Hotels, headed up by Marios Polyviou, CEO, who have six other (unbranded) hotels in Larnaka.
Set in the heart of the city centre (and facing the sea), the hotel gives visitors the ability to discover both the modern and ancient sides of Larnaca's culture – including its thriving seaport and waterfront lined with palm trees.
The hotel is located 2 km from the beach.
All rooms have a balcony with views of the coast and the harbour.
For dining on the fifth floor, guests can enjoy international cuisine (featuring locally inspired dishes) alongside panoramic views of Larnaca.
The Radisson Blu Hotel, Larnaca is also home to three different bar concepts – including the Lobby Lounge & Bar, and the Skybar on the 16th floor.
"We're delighted to open our first Radisson Blu hotel in one of Europe's favourite destinations, and a popular seaside retreat for visitors from around the world. As the third largest island in the Mediterranean, Cyprus attracts more than three million tourists annually, appealing to a wide range of travellers" said Yilmaz Yildirimlar, Area Senior Vice President, Central and Southern Europe, Radisson Hotel Group.
THPT Comment: We believe this is Radisson's first hotel in Cyprus…interesting to see if there will be more?
First Seen: e-Hotelier Insights