Date: July 2018
Location: Near Albrook International Airport, Panama City, Panama
Name: Radisson Hotel Panama Canal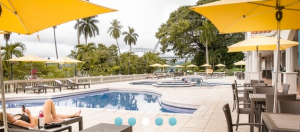 No. of Keys: 254
Renovated: The hotel has a prime location in Panama City with breathtaking views of the Panama Canal. It is also within walking distance to the Amador Convention Center, which is scheduled to open December 2018.
The hotel was originally a Country Inn & Suites by Radisson and recently completed a nearly $2 million renovation to convert the property into a Radisson.
"We are thrilled to welcome this fantastic hotel as we continue growing the Radisson brand in Latin America," said Frances Gonzalez, vice president of Operations for Radisson Hotel Group in Latin America.
"The opening of this hotel aligns with our 5-year strategic plan to tighten brand consistency and drive awareness of our hotels while delivering superior hospitality for our guests."
There are several onsite dining options at the hotel including Café 1914 offering 24-hour service featuring coffee, tea, soups, sandwiches, fresh pizza and pastries.
Bridge View Restaurant is open for breakfast, lunch and dinner with beautiful views of the Bridge of the Americas from its floor-to-ceiling windows.
The hotel also has a TGI Friday's restaurant for casual dining and a lobby bar that offers small plates, local craft beer and signature cocktails. The hotel can serve as a venue for meetings and special events.
There are 13 flexible meeting rooms for hosting gatherings from 18 to 150 guests.
"We are honoured to open our doors under the Radisson brand in the beautiful Panama City," said Guillermo Quijano Duran, the hotel's vice president.
THPT Comment: Good to see another refurb, raising standards for the City.
Firs Seen: Radisson website