Date: August 2018
Location: USA
Name: HomeTowne Studios by Red Roof.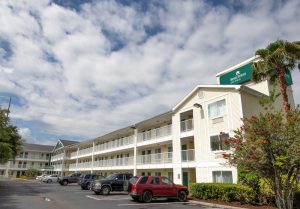 No. of Keys: 4,000
The Story: Economy chain Red Roof Inn is entering the extended-stay market with its newest sub-brand, HomeTowne Studios by Red Roof, which is slated to launch with 30 properties in more than 20 markets with nearly 4,000 rooms, and has a pipeline of more than a dozen hotels scheduled to open over the next year. Red Roof has more than 500 properties in total, including seven in international markets.
The decision to gain a foothold in the extended-stay space was not a difficult one, according to Red Roof Inn President Andrew Alexander. "Our current customer base is looking for distribution in that space and has been for quite some time," he said. "Basic economy extended-stay really resonates with not only our [existing] customers but with new customers across the country. So for several years, we've been looking at this space together with Houston, Texas-based Red Roof owner, Westbridge Hospitality, who has always had an interest in the extended-stay space."
The chain is not alone in its thinking. According to Lodging Econometrics, extended-stay projects currently make up more than a quarter of all hotel development in the U.S. pipeline.
Red Roof's strength in the economy segment is expected to help attract both existing and new owners to join the brand, said Chief Development Officer Phil Hugh. "We have people that'll be looking for that performance as well as support for their assets when they need to make a decision on renovating or re-branding.
The majority of the new construction that's happening in the economy segment today is in the extended-stay space, and we think that we will get our fair share of that business as well now that we're there."
The renovations and the cost-per-key basis will be value-engineered, said Hugh. "We worked very closely with our vendors to get the best pricing and the design of these rooms is very efficient, so I don't think that it will be a hardship for the owner or we wouldn't be entering the space to do the renovations."
Cost per key, he added, will be based on each market. "Obviously, Seattle or Denver is going to be very different from Atlanta or Miami."
As all of the 30-plus projects in the pipeline are conversions, HomeTowne does not yet have a fixed prototype. Instead, the company is spending $50 million on "extensive renovations," primarily on guest-facing improvements, for each property that joins the brand, said Alexander.
The new rooms were designed in-house, and select owners and VIP guests were invited to walk through the mock-ups in Houston and offer feedback. "The current Red Roof design was the starting point in many ways, and then we tweaked that to meet the needs of extended-stay guests," said Alexander.
The HomeTowne Studios by Red Roof will include a kitchenette with full-size refrigerator, microwave, sink, kitchen table and chairs.
They will not, however, include pots and pans for guests to cook with—or even plates and flatware to serve the meals. Guests can bring their own cookware, or purchase this equipment upon arrival.
The dish kit costs $29.95 (plus tax) and includes plates, bowls glasses and coffee mugs for two people, a frying pan and saucepan, a serving spoon, a spatula and a can opener. Guests can also buy a coffee pot for an additional $24.95, or come to the lobby for coffee.
The decision to offer these products for sale rather than include them in the cost of the room came from differences in local laws about the cleanliness of cooking facilities, Alexander claimed. "We don't have to deal with the various laws regarding washing and packaging that exist in many jurisdictions," he said.
THPT Comment: Firstly interesting that Red Roof is courting danger over the name/brand against Marriott's TownePlace Suites…even more surprising is you get a kitchen, but no pans to cook your food in! What next – bathrooms without towels?
First Seen: Hotel Management