Date: July 2018
Location: Above Dundee new £38m Railway Station, Scotland, UK
Name: SleeperzHotel Dundee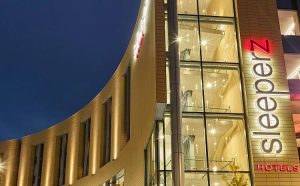 No. of Keys: 120
Owner: Sleeperz Hotels headed up by David Myers, chief executive. The hotel was built in partnership with Dundee City Council.
Its curved frontage looks out over the River Tay and two major visitor attractions, the RRS Discovery – Captain Scott's polar expeditionary vessel – and the V&A Museum of Design Dundee, opening September 15.
Dundee Railway Station and Sleeperz Hotel Dundee were opened yesterday, Monday July 9, by Joe FitzPatrick MSP, Minister for Public Health and Sport.
The opening of the V&A Museum of Design in September will attract visitors from across the UK and internationally and they will benefit from our ultra-convenient location at the gateway to Dundee and Sleeperz' distinctive brand of stylish city stays at affordable rates.''
Sleeperz Hotel Dundee is the brand's fourth UK hotel.
Dundee has received global media attention and been named "Scotland's Coolest City" and one of the 'World's 10 hottest destinations' by The Wall Street Journal in 2018. Travel guide Lonely Planet also listed Dundee as one of Europe's Top-10 places to visit this year.
The hotel has created 40 new hospitality jobs in the city's visitor economy through direct employment and a partnership training scheme with Dundee City Council called Remploy Work First.
THPT Comment: Sleeperz Hotels specialises in building stylish and affordable city centre lifestyle hotels, close to mainline rail stations. Sleeperz Hotel Cardiff was first to open in 2008, followed by Sleeperz Hotel Newcastle in 2012 and 'sister-brand' hotel Cityroomz Edinburgh in 2013.
First Seen: Hospitality & Catering News