Date: June 2018
Location: Global
Name: Global Serviced Apartments Industry Report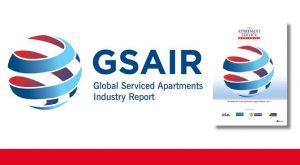 What Is It: Probably the most comprehensive report on the serviced apartment sector…The Apartment Service, started in 1991, is the probably the first agency to have created a database of serviced apartment properties around the world and offers a full reservations service to business and leisure travellers, as as marketing services to apartment owners
This is the 7th annual edition, compiled from both primary and secondary global sources, has comment and debate from over 40 industry buyers, suppliers and consultants.
It also features a series of case studies detailing how corporates have successfully adopted serviced apartments for business travel, assignment working and relocation requirements.
Assessment of the results of the latest GSAIR survey of 6,000 corporates, 2,000 serviced apartment operators and over 1,800 agents show the following;
• Over half of corporates are using serviced apartments for business travel, with 40% of corporates allocating up to 20% of accommodation budget to extended stay solutions
• Serviced apartments have found their niche as a ´stand-alone´ category and are featuring less in the standardised annual hotel RFP´s
• 37% of corporate companies are now mandating the use of a specialist agency channel (similar to TAS Global), alongside an RMC or TMC for their apartment bookings.
• 47% of corporates allow their travellers to independently select/book their own long stay accommodation
• Corporates are continuing to leverage long-stay savings of between 17% and 29% versus their hotel programme spend.
Jo Layton, MD Group Commercial Sales says 'As the sector continues to mature and grow, the key requirements of compliance, transparency, analysis and cost effectiveness – added to ease of booking – are becoming even more apparent. Open debate and continued communication with all stakeholders is important to drive the continued development of this vibrant sector forward.'
GSAIR estimates there are now in excess of 1,022,984 serviced apartments worldwide (with a further 73,563 corporate housing units) in more than 13,164 locations.
This compares to 826,759 apartments (with 70,300 corporate housing units) in 10,777 locations two years ago. These figures represent a significant increase in available inventory; 23.7% growth compared to 10.5% growth as published in the 6th edition.
THPT Comment: THPT admission! Dev Anand was one of the founding fathers, together with Charlie McCrow of The Apartment Service back in 1991. Even so we really believe this is a must-see report for anyone think of investing in this sector.
To Get a Copy: Either direct from The Apartment Service or via THPT
Size: 132 page PDF
Cost: Free
First Seen: The Apartment Service Press Release