Date: August 2018
Location: Bethnal Green, East London, UK
Name: The East London Hotel – opening autumn 2018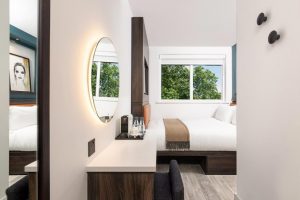 No. of Keys: 161
Seller: The hotel is being developed on the site previously occupied by the headquarters of Balls Brothers wine merchants.
Buyer: The hotel will be the first hospitality venture from property investment and development company Definition Capital, led by Irfan Hussain and Marin Jakisic, who specialise in commercial and residential investments in London and the south east.
Hussain and Jakisic, who were also the founders of the property company JMH Group, will be the owners and operators of the new venture.
The hotel will aim to reflect the urban contemporary style of its east London location with interiors by Occa Design, while its restaurant and bar will highlight local food and drink suppliers.
Erwin de Jong Oliveira – previously with the London Hotel Group and before that general manager of Yotel Air Europe where he managed four airport hotels – has been appointed general manager.
Price: £38m
Price per Key: £236,024
THPT Comment: No slow down then on the new hotel development in what is now London's trendy Shoreditch/Hackney area.
First Seen: The Caterer