Main Photo: The new Kayak Hotel in Miami
Date: March 2021
Location: Miami Beach, Florida, USA
Name: Kayak Miami Beach – opening April 2021
No. Keys: TBA
Seller: Located in Miami Beach's cultural hub of Collins Park and housed in a 1934 landmark Art Deco building, we think it's a former hotel.
Buyer: Nearly twenty years after designing one of the world's leading travel search engines, Kayak is getting into the brick and mortar business of hospitality.
In April Kayak will launch its first-ever hotel in Miami Beach. The historic Art Deco property aims to offer a curated experience with a high tech approach.
"We are really psyched about it," said Kayak CEO Steve Hafner in a call. "We are really good at consumer software and when we looked at the hotel industry we thought there were places for improvement."
Describing the new venture as "a very tech-forward, authentic experience," Hafner explains that they designed a hotel that their well-heeled customers would want to visit. Recently, they've seen consumer interest in boutique hotel experiences over larger chains. Hafner also predicts a rise in "bleisure," the combination of business and leisure travel.
Their hotel will also function as a design lab as Kayak builds and refines its accommodation technology, essentially giving developers a way to physically see what consumers want and how they would use a full service hotel app. At the Miami Beach property, guests have 24/7 access to staff and support, notifications of hotel events and room-ready alerts.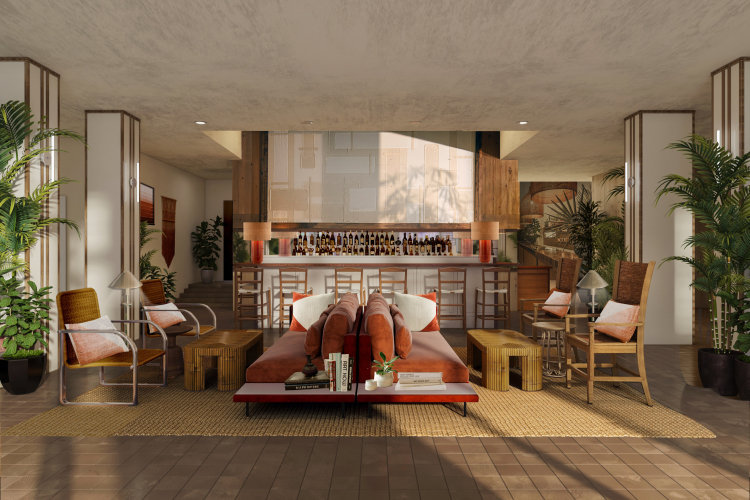 Eventually the back end software, which is currently under development, will allow integrations to cloud-based property management systems, including wireless lock and access controls. They envision consumers using their app for a variety of hotel properties, offering everything from check-in to amenities. The technology is being developed in partnership with Life House, a vertically integrated hotel brand and management company.
Kayak is part of Booking Holdings, which also owns OpenTable and other travel, activity and restaurant brands. In 2019, Kayak began a cross-platform integration with OpenTable, allowing consumers to use their OpenTable points for hotel discounts. This new foray into hotels is part of Kayak's larger strategy to "inject more technology into the restaurant and hotel space" said Hafner.
Miami was an easy choice for the travel search engine's first hotel. The city consistently ranks as a top ten destination on Kayak's annual reports. Looking forward, the group will use their own data to help plan new locations for their hotels meet design labs, similarly to how Netflix NFLX -1% relies on user insight to develop new series.
Kayak plans on adding a West Coast outpost – possibly Los Angeles – as well as a potential European location. As for the East Coast, they are considering a short-term rental accommodation in Boston. They plan to be operating at multiple locations by the end of 2021.
In addition to a hotel, the new property features a modern Eastern Mediterranean bar and restaurant concept, Layla. The name is a nod to the famous Arab love story.
Rami Zeidan founded Life House in 2017. After a seasoned career in the luxury & boutique hotel space, Rami was poised to create a curated hospitality experience designed to foster meaningful, frequent travel. They currently have, either open or in the pipeline, nine very boutique-style hotels, mainly in the USA.
THPT Comment: Poacher turned Gamekeeper? Over the years, hotel companies have tried to be booking agents as well….probably one of the first examples of a booking agent becoming a hotelier….One hopes it doesn't end in tears.
First Seen: Forbes
The Hotel Property Team (THPT) is a small group of highly experienced business professionals. Between us, we provide a range of skills and experience which is directly relevant to those involved in the hotel property market.
For more information – Visit www.thpt.co.uk or email info@thpt.co.uk.