Location: Male Atoll, 25 km North of Male International Airport, 30 mins by Speedboat

Name: The Chedi
Guide Price: TBA
No. of Keys: 99 Villas on the Bigger Island; Smaller Island – Open to Options; Opening Date; December 2020

The Opportunity: Own two islands, measuring 15.42 & 10.00 Hectares, respectively!. The bigger Island is being developed with a 99 Rooms as an Upper upscale Resort. The smaller island is ready for development with all shore protection and environmental clearence in place.
Staff accommodation to house 403 staff. The accommodation includes a Villa for the GM, one bedroom apartments for senior managers, with 4 to a room for the main workforce. Apart from the rooms there is a Staff Restaurant and Bar, club house , soccer field, basket ball court etc.
The 99 Villas are made up of: 4 Water Villas with plunge pools (182 sqm); 32 Water Villas (150 sqm); 8 Beach Villas with plunge pools (152 sqm); 23 Beach Villas (120 sqm) and 32 two Double-Storey Villas (116 sqm).
All-day dining, 3 restaurants and bars. Executive club lounge, Cigar bar, Spa with 7 treatment rooms, Gym, Dive centre, 150 metre Pool, Yoga and meditation, 4 shops and tennis courts.
Progress: The islands were acquired in 2013, on a long-term lease of 47 years; Government planning consents granted in 2015/16; Building work started in 2018; Opening planned for December 2020, with 40 years left to run on the lease. Construction all done, just awaiting equipment, already on site, to be installed…subject to international flights being resumed.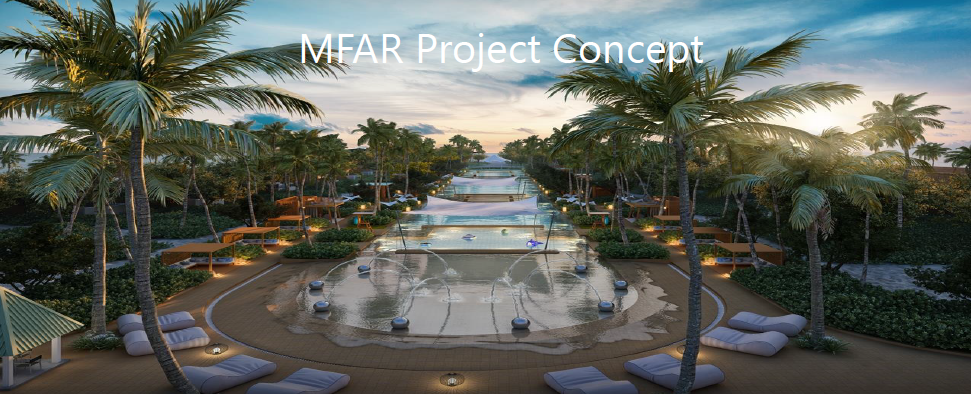 The project managers, MFAR currently have 3 Five-star hotels in India and Oman.
From 2011 to 2019 International tourist arrivals to the Maldives has been seeing a very steady growth with strong focus by the Government to maintain the growth. With 1.7 million international tourists as at end 2019 Maldives recorded an annual average tourist arrival growth rate of 11.8% over 2015 (CAGR was 9.3% during 2010 – 2015) and is estimated to reach 2.3 million by 2025.
In 2019, Europe with 55.8% market share has taken over as lead market generator from Asia Pacific with 35.3%. The Middle East is one of the fastest growing markets for the Maldives with annual growth rates of 30%. The expansion of the Velana International Airport at Male provides a major thrust to handling tourist volumes projected to grow manifold in the next few years.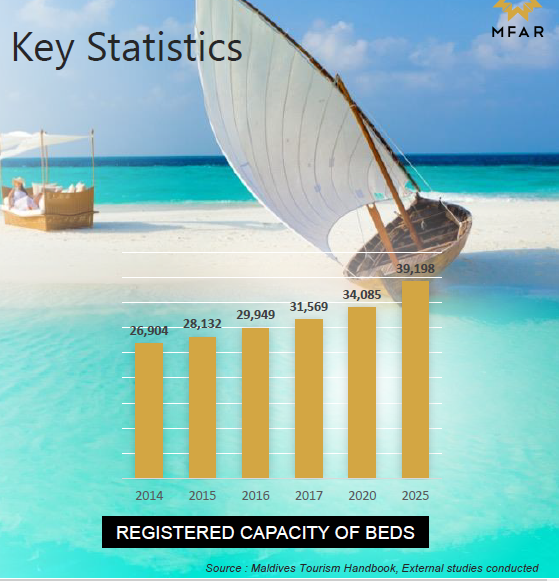 Resorts are the most commonly used type of accommodation….115 resorts as of 2015 with a "one island, one resort" concept. Resorts and hotels account for about 78% of the total bed
capacity representing 26,586 beds available in 2015. 9 to 12 new resorts licenses were issued to meet tourist demand.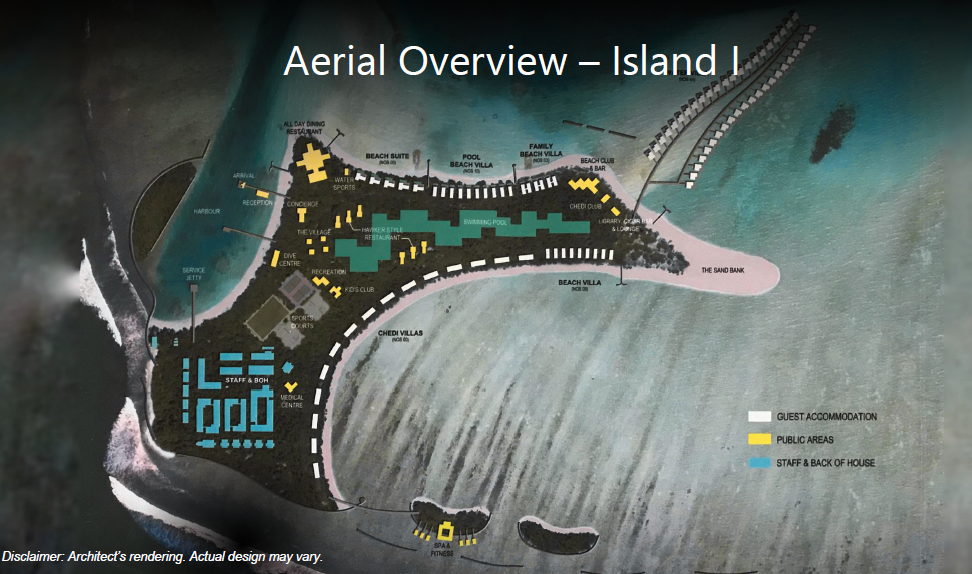 The target clientele is UHNI families, global surfing community, ocean sports lovers and the 'wind water sun' lovers from Europe, the Middle East, China & India. DF
Main Photo: The main island with 99 Villas
Tenure: 40 year lease from opening…extension possible
Flag and Management: The plan is for GHM – General Hotels Management, with boutique resorts under management in Switzerland, Thailand, Oman and China, to manage. If required, new owner can change this.
Current Owner: MFAR Group, headed up by Dr Mohamed Ali, with over 5 decades of
experience in Engineering, Construction and Projects and has been involved in setting
up world class infrastructure facilities in the Middle East. Dr Ali is the co founder of Galfar Engineering Contracting SAOG, one of the largest, multi disciplined engineering, contracting and construction companies in the Middle East, with a group turnover in excess of US$2 billion. MFAR would prefer an outright sale, but would be willing to discuss JV.
Agent: Local agent in partnership with THPT
Guide Price: TBA
Price per Key: 
Date Posted: June 2020
THPT Comment: A great opportunity to secure this amazing resort concept in the Maldives, with two islands…one ready to open, the other open to the new owners.
Contact us for further information
This is a new feature on the THPT site…. Hotel & Serviced Apartment owners can be naturally reticent in publicising their property is for sale…for confidentiality reasons, for staff and current client reasons, so the properties featured in this section will either be "generic" or "name specific"
Each fortnight we mail the opportunities posted that week, but check-out the tab "Hotels Available" and call us for details of "Under the Table" – deals not posted on the site at all
The Hotel Property Team (THPT) is a small group of highly experienced business professionals. Between us, we provide a range of skills and experience which is directly relevant to those involved in the hotel property market.
For more information – Visit www.thpt.co.uk or email info@thpt.co.uk.
MISREPRESENTATION ACT 1967. This information is provided as a general guide and is not intended to be constructed as a statement of fact upon which interested parties can rely. All interested parties should make their enquiries by inspection or otherwise. Neither The Hotel Property Team (trading name of Impetus Marketing 2006 Ltd) nor any person in our employment has the authority to make, give or imply any representation or warranty whatsoever relating to the premises referred to in these particulars. These details do not constitute any offer, contract or any part thereof and all negotiations relating to the premises should be conducted through THPT.