Location: Panshet Lake, Pune, Maharashtra, India

Names: 11.2 – Eleven Point Two 
No. of Keys: 100
The Property: To do justice to this proposition, one needs to meet the brainchild of this unique new-build development over 40 acres of lush green land and Lake in the Western Ghats of India, located between Mumbai and Pune.
11.2 kms is the Earth's escape velocity.
It is the minimum speed needed to escape the Earth's gravitational pull.
Eleven Point Two is a place, a community and a platform that will provide the velocity needed to escape to a new trajectory where impactful ideas are continuously nurtured.
As their prospectus states: A place where…..Life comes to a standstill, yet ideas travel faster than the speed of light. Every moment is another experience in the path to self-discovery. The journey begins with you and ends with the entire human race….The world comes together as one.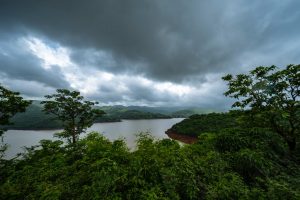 The income will come from three sources:
Membership fees; Curated events; Accommodation, banquetings and food and drink.
The project development has currently achieved:
Land acquired with clear title; Zoning and planning permissions in place; Design consultants appointed – Zubin Zainuddin, ZZ Design Consulting Firm – one of the top 10 architectural practices in India; Brand & Communication Consultant appointed – Kiran Khalap, Chlorophyll Brand Consultancy and TED speaker; Back of House is being designed by Dubai-based HCTS.
Construction is underway, by Cloris Constructions Pvt Ltd, a Mumbai based EPC Company.
We have two consultants whose appointment is in Pipeline, Techture Pvt Ltd for Building Information Management Systems and Project Management Consultants and IBM, for Building Automation and Management Systems.
Road works in place; Landscaping design completed; Meta Design appointed as LEED Platinum Consultant whose scope is to advise on all materials and processes on an ongoing basis.
The property will comprise: lmaginarium Innovation Lab, Digital Library, Art Pavilion, Incubation Rooms, Office in Nature, Media Room, Design Studio, Tech Campus…Accommodation, three themed restaurants and one cafe (alcohol to be served in one).
Main Photo: The tranquil setting of the venue
Tenure: Freehold
Brand/Management: Looking for JV with international investor and/or hotel company, under the 11.2 brand.
Current Owner: Ram Yadav, Harvard Alumnus and business leader, with background in real-estate and financial services.
Agent: The Hotel Property Team
Investment Required: The Land acquisition started in 2006-7 and the historical Book Value is INR 10 Cr (US$ 1.5 Mn). The Current value of the contiguous land is approximately INR 100 Cr (US$ 15 Mn).
Construction is currently underway and the first phase, which includes entire Infrastructure and 40 Room keys. The first phase will be completed by March 2021. Once this phase is developed, the owner will kick-start the Community building and curation of Experiences. Once we are able to build a sizeable community, we plan to start the second phase completing all 96 Rooms.
We are expecting the Second phase to conservatively start in Year 2022 and finish before Year 2025. Given the large size of property we have designed the modularity in such a way that there is no disturbance or construction activity visible for the existing patrons.
The total coverage of constructable land to total land is well below 10%.
Date Posted: October 2019
THPT Comment: This is the Indian hippy ideal bought upto date for the Millennial generation. As stated, one needs to meet Ram Yadav for his insight into this unique opportunity in India.
Contact us for further information
This is a new feature on the THPT site…. Hotel & Serviced Apartment owners can be naturally reticent in publicising their property is for sale…for confidentiality reasons, for staff and current client reasons, so the properties featured in this section will either be "generic" or "name specific"
Each fortnight we mail the opportunities posted that week, but check-out the tab "Hotels Available" and call us for details of "Under the Table" – deals not posted on the site at all
The Hotel Property Team (THPT) is a small group of highly experienced business professionals. Between us, we provide a range of skills and experience which is directly relevant to those involved in the hotel property market.
For more information – Visit www.thpt.co.uk or email info@thpt.co.uk.
MISREPRESENTATION ACT 1967. This information is provided as a general guide and is not intended to be constructed as a statement of fact upon which interested parties can rely. All interested parties should make their enquiries by inspection or otherwise. Neither The Hotel Property Team (trading name of Impetus Marketing 2006 Ltd) nor any person in our employment has the authority to make, give or imply any representation or warranty whatsoever relating to the premises referred to in these particulars. These details do not constitute any offer, contract or any part thereof and all negotiations relating to the premises should be conducted through THPT.