Date: February 2018
About: Vincent Tchenguiz to sue Hilton
Why: A property tycoon is preparing to launch legal action against the hotels giant Hilton over 10 UK sites that have fallen into administration. Litigation is not unusual for him/the brothers.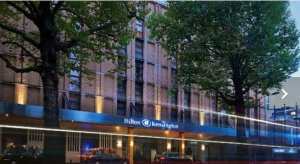 Vincent Tchenguiz, who is famous for his successful crusade against the Serious Fraud Office, sent a pre-action letter to Hilton and two hedge funds on Friday. Hilton's finance director, Kevin Jacobs, is named as one of the defendants.
The row relates to 10 Hilton hotels, including the London flagship site in Kensington ( Hilton London Knesington) which Tchenguiz bought through a sale-and-leaseback deal in 2002. He became the landlord, and Hilton agreed to keep operating the hotels on leases until 2029.
Tchenguiz accuses Hilton of trying to wriggle out of the leases on the hotels, most of which are said to…have fallen into a poor state of repair and turned loss-making.
Tchenguiz believes that Hilton received confidential information about their financing arrangements from two hedge funds, Fortress and Hayfin, and then frustrated a sale process in the hope of buying back the freeholds cheaply through an administration, in order to escape liabilities of more than £1.6bn for the leases.
The Zinc portfolio, as it is known, was put into administration by the advisory firm AlixPartners on behalf of Tchenguiz's lenders this month after the auction led to a stand-off.
Fortress and Hayfin declined to comment, but they are understood to reject the allegation.
Hilton said: "These hotels operate under a lease structure, the terms of which are unaffected by the change. The hotels continue to operate as usual. We are unable to comment on pending litigation."
The row dates back to 2014, when Hilton tried to assign the 10 Zinc leases to shell subsidiaries on the eve of a refinancing by Tchenguiz.
He challenged the move in the High Court, which ruled that Hilton's actions were unlawful. Hilton appealed, but lost again.
In 2015, Fortress and Hayfin bought into the loans used to finance Tchenguiz's portfolio.
Tchenguiz alleges that Hilton used its influence to discourage bidders, resulting in just two offers: £260m for the Kensington Hilton from the Monaco-based hotelier Bakir Cola, and £250m for the other nine hotels from DVS, a property investor.
The bids would have paid off the Zinc portfolio's £510m of loans and interest rate swaps, but left no equity value. Hilton would have had the right of first refusal to match the offers. Tchenguiz refused to accept them, prompting his lenders to put the hotels into administration.
Tchenguiz has hired the law firm Teacher Stern and the barristers Steven Kay and Gillian Higgins of the chambers 9 Bedford Row to pursue a High Court claim, which is expected to be filed this week.
THPT Comment: The portfolio of 10 hotels is a slightly mixed bag, London probably being the most interesting, with Croydon, Cobham, Leeds, Nottingham, Tewkesbury and Watford amongst the others. They instructed Savills in 2017 to sell the whole portfolio for aroun £600m, with London alone at £300m